Illustrator and Photoshop are two of the most popular applications for graphic designers. Since they're both made by Adobe, sometimes there's confusion about how they compare or which program is best for a particular scenario. Here you'll find answers to your questions so you can know for sure when to use Illustrator and when to use Photoshop.
The Primary Difference Between Illustrator and Photoshop
Although both Illustrator and Photoshop are useful for graphic design, the two applications have one major difference: Illustrator is a vector-based program, and Photoshop is a raster-based program.
Raster (also known as bitmap) files consist of tiny pixels. If the image is enlarged, it will lose sharpness and clarity because the pixels become visible to the naked eye. Vectors do not use pixels. Instead, they're made with shapes, curves, and paths. Since they're not pixel-based, vectors can scale to larger sizes without losing the quality of the image.
For a much more detailed look at the topic, please see our article Raster vs. Vector.
Vecteezy offers the largest selection of high-quality vectors. We have millions of free vectors that can be used in your personal and commercial design projects. Browse our selection of free downloads here.
Illustrator Overview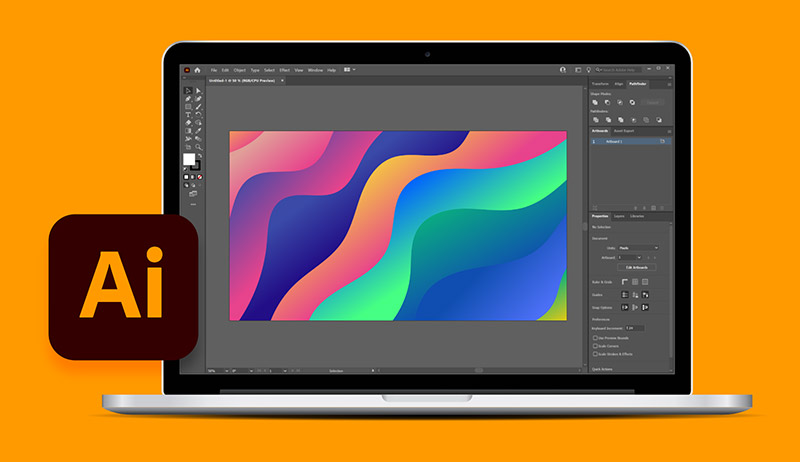 Adobe Illustrator is the leading program for vector-based graphic design and illustration. Initially released in 1986, it's the industry standard used by most professional designers and many hobbyists and enthusiasts.
While Illustrator is suitable for a wide range of projects, it's ideal for things like logo design and branding, icons, mascots, characters, patterns, fonts, geometric elements, print-based design, and more.
All of the most popular vector file formats are supported by Illustrator. This includes .ai (Illustrator's native format), .eps, .svg, .cdr, and others.
---
Get millions of stock images and videos at the best price
Unlimited access. No attribution required. Starts at just $9/month.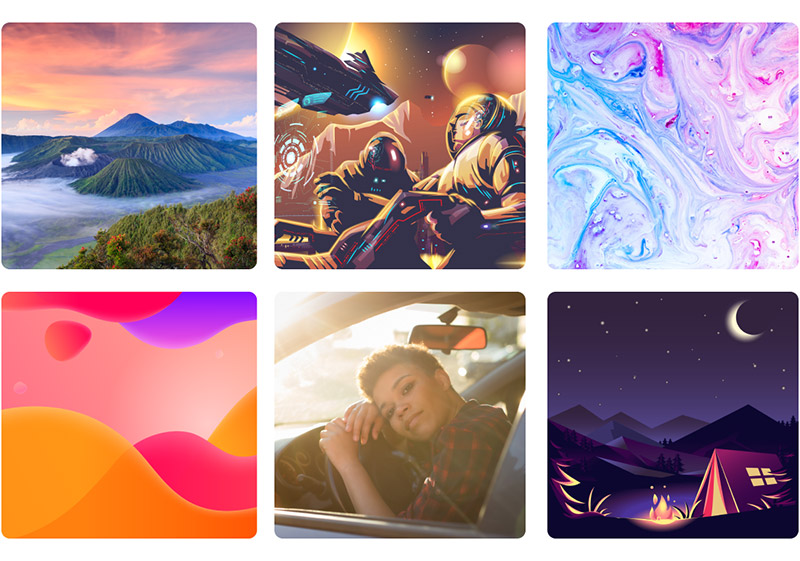 ---
Illustrator includes advanced capabilities for creating and working with shapes, which are the foundation for many designs and illustrations. There are also Pen and Pencil tools that can draw just about anything you can imagine.
Working with text is another strength of Illustrator. While you won't want to use Illustrator for working with very long passages of text (like magazine layouts), the vector-based editor is perfect for exploring your creativity with text effects and designs involving text.
The Live Trace functionality comes in handy when you need to convert a raster-based image into a vector. Vectorizing a logo is one example, but Live Trace can also be used for creating hand-drawn vectors, converting photos or scans of texture into vector format, and more.
Related: Free Adobe Illustrator Plugins to Try Today
When to Use Illustrator
Vector-based design. Any time you need to create or work with vectors, you should be using Illustrator. Photoshop will allow you to open vector files, but they will be immediately rasterized and no longer true vectors.
Logo design. Logos should always be designed in vector format because they must remain sharp and crisp at any size. Small logos may be used for some projects, like a website design. Very large versions of the logo may be needed for other projects, like a billboard. The logo must be able to scale up and down without losing quality.
Icon design. Like logos, icons should also be designed in vector format because they may be needed in a wide range of sizes. After the icon is designed it might be saved in a raster format, like .png, for use on a website.
Single-page print-based design projects like business cards, brochures, and flyers. Vector-based design is ideal for print projects because it ensures the design will maintain its sharpness when printed. However, Illustrator lacks the functionality for working with multi-page layouts, so it's best for one-page projects.
Photoshop Overview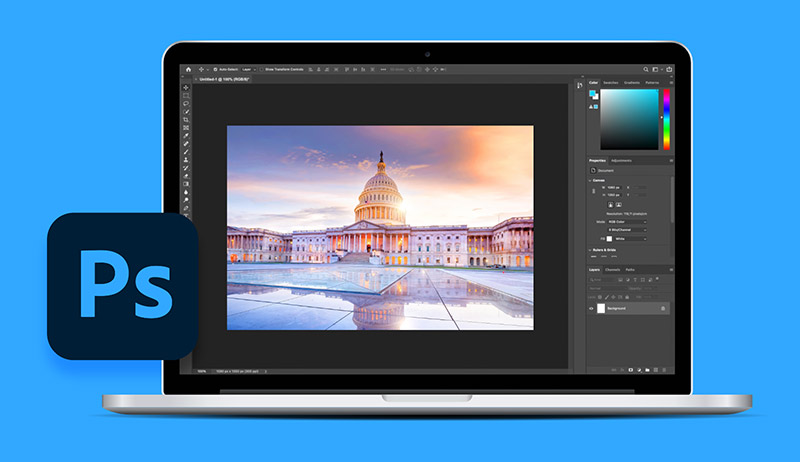 Originally released in 1990, Adobe Photoshop has become the world's most popular photo editing and photo manipulation program. As a pixel-based editor, you can work with the fine details of photos and images to create exactly what you envision.
Although it's not a vector-based program, Photoshop does have some capabilities when it comes to vectors. You can open files in the most popular vector formats using Photoshop and they will be converted to raster format. Photoshop also allows you to create and work with vector shapes as a part of your design.
Photoshop is a crossover between photo editing software and design software. It's primarily based around photos, but its tools and features provide lots of power for graphic design. It's often the program of choice for designing images to be used online (like website, blog, and social media images).
As far as photo editing is concerned, Photoshop includes industry-leading tools for things like removing backgrounds, removing objects (including people), manipulating or altering the photo, and combining multiple images. This goes beyond photo editing and ventures into digital art.
Designers and photographers love Photoshop because it provides complete creative freedom, although there's a learning curve required to master the tools.
Related: The Best Free Photoshop Plugins for Designers
When to Use Photoshop
When you're starting with an existing image. Any time you're opening an existing digital image to begin your design, Photoshop is a good choice.
Photo editing. Photoshop includes a wealth of tools and features for photo editing and post processing. You can use adjustment layers for non-destructive editing to adjust contrast, brightness, saturation, color balance, etc. You can also do basic touchups to portraits and other photos.
Photo manipulation and compositing. Aside from basic photo editing, Photoshop also includes the best tools and capabilities for extensive and detailed photo manipulation. You can also create composites where you're merging or blending multiple photos into one.
Mockups. Create realistic mockups that show your design on objects or products like t-shirts, hats, mugs, book covers, computer screens, etc.
Images for the web. When you're designing images for websites or social media, you'll typically know the specific dimensions that you need. Raster-based design is suitable in these scenarios because the images will not be scaled to larger sizes.
What About InDesign?
InDesign is another design application made by Adobe. While InDesign's capabilities slightly overlap with Photoshop and Illustrator, it serves a different purpose. InDesign is excellent for creating layouts of multi-page documents.
For example, if you're creating an annual report or magazine layout, InDesign would be well-suited for the job. However, it's best to use Illustrator or Photoshop to work with the elements (like photos, logos, icons, and other graphics) that you'll be adding to the layout.
As part of the Creative Cloud package, all of these programs work well together, and it's easy to bring your vectors and bitmap images from Illustrator and Photoshop into InDesign.
What About Lightroom?
Lightroom offers some of the same photo editing and post processing capabilities as Photoshop, but without the advanced tools and features for things like complex background removals, compositing multiple images together, or working with layers. Where Lightroom separates itself from Photoshop is in the management and organization of your digital photos. For a much more detailed look at the topic, please read our Photoshop vs. Lightroom comparison.
Illustrator vs. Photoshop: Conclusion
While Illustrator and Photoshop have some overlapping features and functions, most graphic designers use both programs because they excel in different areas. If you have a Creative Cloud subscription, you already have access to both. And since they integrate nicely, it's easy to use each program for its primary purpose.
Lead image by ilona.shorokhova846502.