Have you been given a CDR file and you're not sure what it is or how to open it? Maybe a graphic designer provided you with a file in this format and you're wondering "What is a CDR file?". Here, we'll answer all your questions about the CDR format so you'll be able to use the file as intended.
What Is a CDR File?
A CDR file (a file ending with the .cdr extension) is a vector graphics file. CDR is the native file format of CorelDRAW, one of the leading vector design programs. If the file is in CDR format, it was probably created in CorelDRAW.
CDR files may contain text, shapes, lines, and other vector elements. This format is common for illustrations, logos, icons, brochures, business cards, flyers, and more.
Related: What is a Vector File?
By default, CorelDRAW will save files in CDR format. However, users have the option to select other file formats for their work, including .ai, .svg, .pdf, .dwg, .dxf, and more.
Note: Some other files also use the .cdr file extension, including Raw Audio CD Data files. You should be able to tell the difference based on the type of file you have. If it's an image file, it's probably from CorelDRAW, and the information in this article will be relevant to you.
Vecteezy offers the largest selection of high-quality vectors. We have millions of free vectors that can be used in your personal and commercial design projects. Browse our selection of free downloads here.
How Do I Open a CDR File?
If you received a CDR file from a designer or colleague, you need to use CorelDRAW or another program that supports this file format. The easiest way to open it is to double click on the file and allow it to open in the default program. The default program will most likely be CorelDRAW if installed on your computer, but it could be a different program depending on your settings.
---
Get millions of stock images and videos at the best price
Unlimited access. No attribution required. Starts at just $9/month.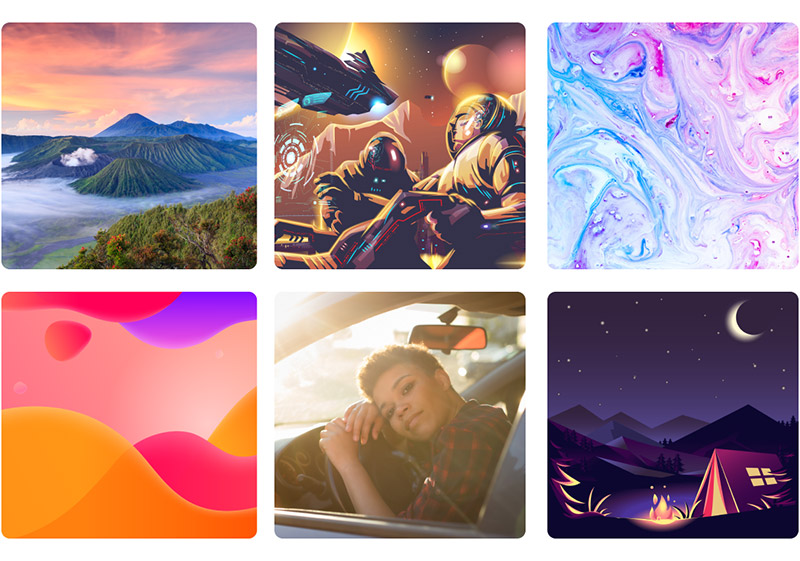 ---
If double-clicking on the file does not work, you may not have a default application set up for CDR files. In that case, you'll need to open the software before opening the file.
With CorelDRAW open on your computer, go to File > Open, and find the file on your desktop.
If you don't have CorelDRAW, you can also open CDR files in Adobe Illustrator or Inkscape. Inkscape is free, open-source software, so if you don't currently have any vector design programs and need to open a CDR file, downloading and installing Inkscape is a viable option.
Once Inkscape is open, go to File > Open and find the file on your desktop.
With the file open in Inkscape, you'll be able to make design changes as needed. Then, when the editing is complete, you can save it in another format like SVG or EPS (see our SVG vs EPS comparison for more details).
Should I Save My Files in CDR Format?
If you're a CorelDRAW user, saving a working copy of your files in CDR format makes sense. Since CDR is the native format of the software, you can be assured that the file will save correctly, and all the data in the file will be saved. Of course, you'll have the option to save in other vector file formats. However, using the native format typically provides the best reliability.
If you share the file with someone who doesn't use CorelDRAW (like a client or a colleague who uses a different program), you may save the file in a more versatile format like SVG. Almost all vector editing apps can open SVG files, so this is a safe format to use if you're unsure who will need to use the file and what programs they'll have access to.
Even if you choose to save the file in SVG format or any other format aside from CDR, it's recommended that you also keep the working copy in CDR format so you can continue to edit the file easily in CorelDRAW in the future. Simply save a copy of the file in another format for other users if needed.
How to Convert a CDR File
There are a few different ways you can convert a CDR file to another format. The first open is to open the file in CorelDRAW or Inkscape and save it in another format. Be sure to use a vector file format like EPS or SVG. If you save it in a bitmap/raster format like PNG or JPG, the image will no longer be scalable, and it will look pixelated if it's enlarged (see Raster vs. Vector for more details).
If you don't have CorelDRAW or Inkscape, you can use an online tool like CloudConvert or Convertio to convert the file into SVG or EPS format. Once it's converted to a more versatile format, you'll be able to open and work with the file in more programs.
What is a CDR File? (Final Thoughts)
If you've received a file with a CDR extension and you're not sure what to do with it, you have a few options. CDR files can be opened in CorelDRAW, Adobe Illustrator, or Inkscape. Inkscape is free, so if you don't have CorelDRAW or Illustrator, you can always download Inkscape to use this popular vector editor at no cost. Whether you choose to keep the file in CDR format or convert it to another vector file format will depend on how you'll be using it and who you'll be sharing it with.