Have you been given an AI file by a designer or colleague and you're not sure how to open it or what to do with it? You may be asking yourself, "What is an AI File?" We'll answer all the common questions surrounding the AI file format to help you access them and use them as intended.
What Is an AI File?
The AI file format (ending with .ai) is the proprietary format of Adobe Illustrator, the design industry's leading software for creating professional vectors and illustrations. As a vector format, AI files do not use pixels. Instead, vectors use lines, shapes, curves, and colors to create scalable images that will remain sharp at any size. Raster or bitmap images, on the other hand, that use pixels will become blurry and lose sharpness if they're enlarged beyond the original size. For more details on the differences, please see Raster vs. Vector.
AI files are single-page documents, as opposed to the PDF format, which can be used for multi-page documents.
Graphic designers typically use Illustrator to create logos, icons, illustrations, drawings, and other digital artwork. That work is typically saved in AI format, but Illustrator users do have the option to save or export to other file formats as well.
Vecteezy offers the largest selection of high-quality vectors. We have millions of free vectors that can be used in your personal and commercial design projects. Browse our selection of free downloads here.
Why Use the AI File Format?
Illustrator users typically save their graphics in AI format, primarily because it's the default option when you're saving an Illustrator file. There are other vector formats and file types like EPS, SVG, and PDF, but if you're working in Adobe Illustrator, it makes sense to save your files in the AI format.
When you use the AI format, all of the information and features from the file will be retained. When the file is opened in Illustrator in the future, all of the data in the file is accessible, and all layers are intact. If you were to save the file in SVG format, only the active artboard would be saved, and anything that's not on the active artboard would be lost. Likewise, saving in formats other than AI will typically flatten the image, losing the layers.
The AI format is the best choice for the working copy of your files when you're designing in Illustrator. As long as you continue to use Illustrator, there's no need to use a different file format. If you'll be sharing the file with someone who uses a vector editing app other than Adobe Illustrator, you may want to save the file in EPS or SVG format for greater versatility. Both of those formats are widely supported. Generally, the EPS format is more appropriate for files that will be printed and SVG is better for images that will be used online.
---
Get millions of stock images and videos at the best price
Unlimited access. No attribution required. Starts at just $9/month.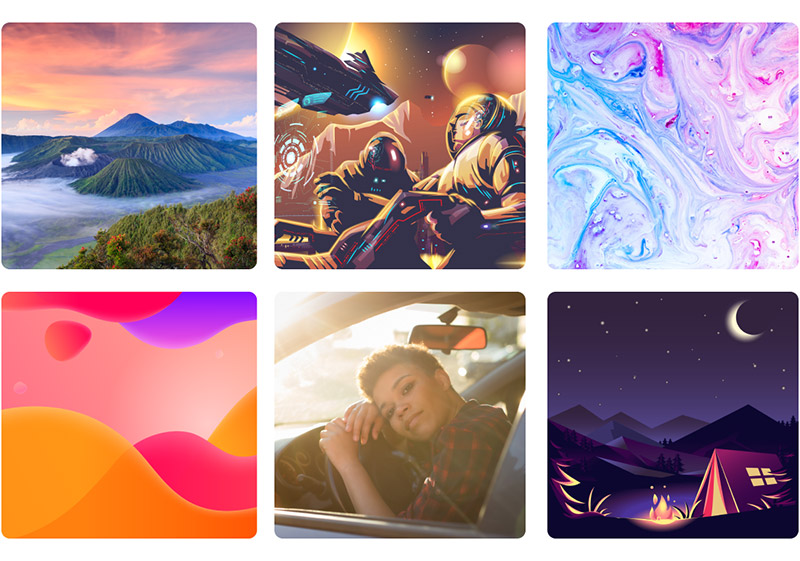 ---
However, even if you save or export the file in another format aside from AI, you'll still probably want to use the AI file as the working copy since you know all of the data and layers will be retained.
Related: What Is a Vector File?
How Do I Open an AI File?
If you have access to Adobe Illustrator, open the program and go to File > Open. Then browse the computer and find the file wherever it's saved, and click "open".
How To Open AI Files Without Illustrator
If you don't have Adobe Illustrator, there are other ways to open AI files. Most vector design software will open AI files. However, since it's Adobe's proprietary format, other programs may not be able to completely read the file as intended. You'll probably want to convert the file to another format like EPS or SVG before working with it.
Here are some of the popular programs that are capable of opening AI files.
Inkscape
Inkscape is a free open-source alternative to Adobe Illustrator. Not only is it free, but it's also surprisingly capable. If you don't have Illustrator and you need to open an AI file, one option is to download and use Inkscape.
You can open AI files in Inkscape, however, the file will open in PDF format. When you go to File > Open and select a file with the .ai file extension, you'll see a popup with PDF import settings. Choose the settings you want, click "OK", and Inkscape will open the AI file.
When Inkscape opens an AI file, all of the elements will be grouped together. If you want to edit something individually, hit F2 to select the Edit Nodes tool and then click on the element you want to work with.
CorelDRAW
CorelDRAW is professional vector design software that's probably the closest alternative to Adobe Illustrator. If you have CorelDRAW, you can open AI files by going to File > Open. There's no import process like what you get in Inkscape. CorelDRAW simply opens the AI file and you can begin working with it.
Affinity Designer
Affinity Designer is another vector graphics program, but it's unique because it can be used for raster-based design in addition to working with vectors. You can open AI files in Affinity Designer, as long as the AI file was saved with PDF content (which is the default setting in Illustrator).
Adobe Photoshop
Photoshop is Adobe's incredibly popular software for photo editing and pixel-based design. Adobe Photoshop is capable of opening AI files, but the image will be rasterized, which means it will no longer be a vector image. Instead, it will use pixels as a bitmap image and will lose the ability to scale to any size without pixelating.
GIMP
GIMP, a free Photoshop alternative, is also pixel-based. Like Photoshop, GIMP can open AI files, but vector graphics will be rasterized during the process.
Converting Files in AI Format To EPS or SVG
Other vector file formats like EPS and SVG are more compatible with a wide range of software and applications. If you're going to be passing an AI file on to other people who may not have Illustrator, you might want to convert it to EPS or SVG format for improved compatibility. Likewise, if you've been given an AI file that you can't open, you may need to convert it so you'll be able to open and work with the file.
We'll look at two different ways to convert the file.
If You Have Access to Illustrator
If you have Adobe Illustrator, the easiest way to convert a file to EPS or SVG is simply to save it from Illustrator in one of those formats. When you open the file in Illustrator and go to Save As, select EPS or SVG file extension in the dropdown instead of the default AI format.
If You Don't Have Access to Illustrator
If you don't have Illustrator, you'll need to use a third-party tool to convert the file for you. You can use tools like CloudConvert or Convertio to easily convert AI files into other formats like EPS or SVG. Once it's converted, you'll be able to open and edit the file in your favorite vector graphics software.
If you're not sure which file format to use, see our EPS vs. SVG comparison.
What is an AI File? Final Thoughts
If you're asking yourself, "What is an AI file?", the answer is, an AI file is a vector created in Adobe Illustrator. The AI file format is the best option for image files that will be edited in Illustrator since it's the proprietary file format created by Adobe Systems. AI files retain all of Illustrator's features.
However, opening and editing AI files can be tricky if you don't have access to Illustrator. Using the tools and resources covered in this article, you'll be able to open the file or convert the original file to another format for greater versatility.
Related: The Best Free Adobe Illustrator Plugins to Try Today