Photo editing or post processing is an essential aspect of digital photography. Even if you're not making monumental changes to your photos, working with details like color, contrast, and sharpness, are everyday tasks, especially if you're shooting in raw files.
There are many different photo editing apps and software you can use (see our favorite free photo editing apps), but Photoshop and Lightroom are the two most popular options. Adobe creates both of these programs for photo editing, so there's often some confusion about the differences.
Let's take a look at the details and advantages of each program.
Lightroom Overview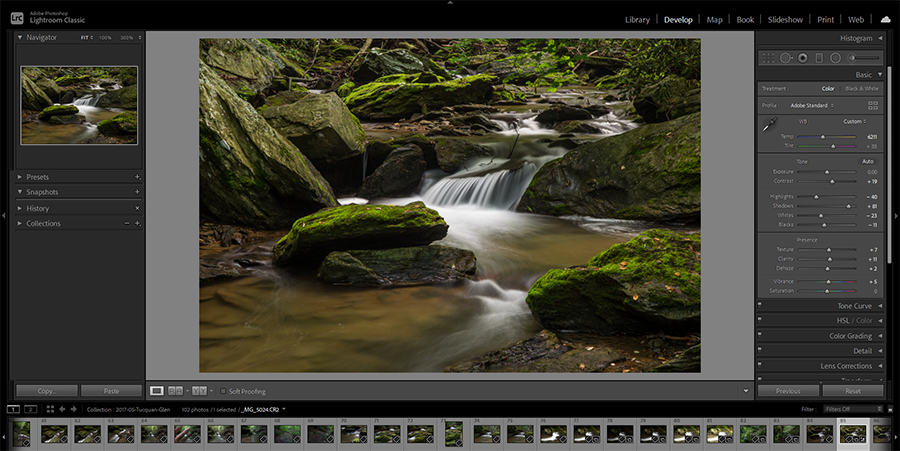 Lightroom's capabilities and functionality fall into two main categories:
Organizing and managing photos
Editing photos
Although we're looking at this topic from the perspective of photo editing, you shouldn't overlook Lightroom's organizational features. Amateur and professional photographers have vast collections of photos that are constantly growing. Keeping track of those photos is an enormous task, and Lightroom offers many features to make it easier.
As a database-driven digital asset manager (DAM), the organizational capabilities of the Library module are among Lightroom's biggest strengths. Browsing your photos is easy, and you can bounce from one shot to the next very quickly. You can also add metadata like keywords, ratings, and flags to your photos to help with organization.
Lightroom allows you to search, filter, and sort photos in a variety of ways. You won't need to spend hours looking through many different folders on your hard drive to find a specific picture. Catalogs, collections, and folders help create your own organization strategy.
---
Get millions of stock images and videos at the best price
Unlimited access. No attribution required. Starts at just $9/month.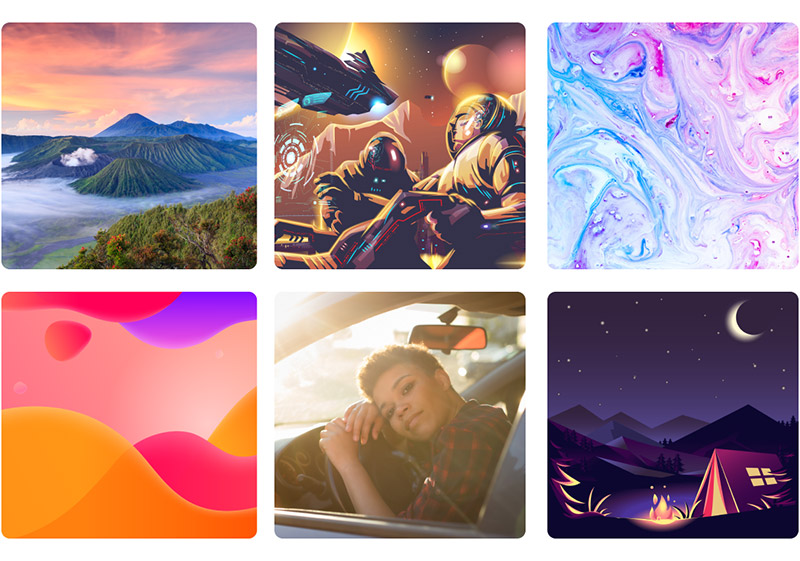 ---
You can work with JPG, DNG, or raw files from just about any digital camera. Lightroom's Develop module includes tools that cover at least 90% of the needs of most photographers. While the editing tools and capabilities are not as advanced as Photoshop's, they're certainly good enough for basic post processing. It's not that Lightroom's tools are lacking. It's more of a case of Photoshop's tools being so advanced.
Photoshop Overview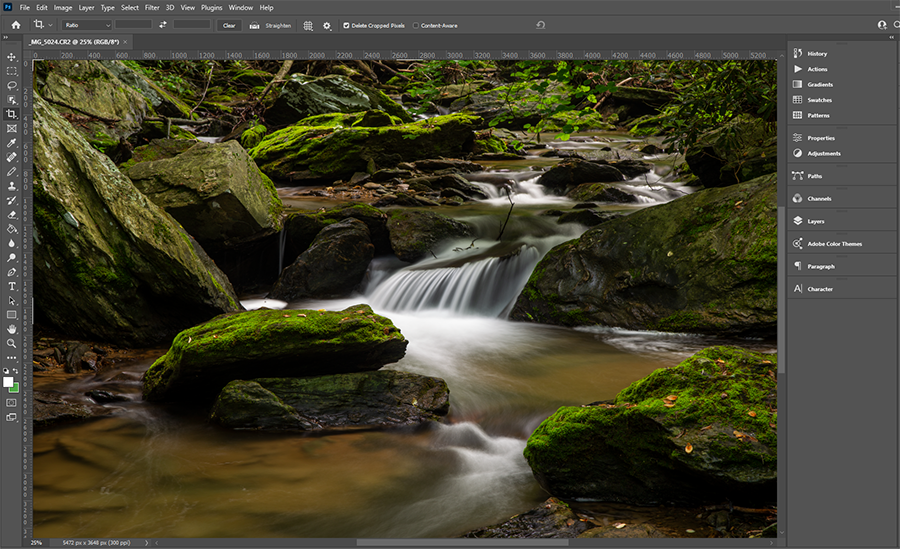 While Lightroom is strictly for processing digital photos, Photoshop is for photographers, graphic designers, animators, and publishers, among others. What started as simple photo editing software more than 30 years ago is now an extremely powerful program for photography and digital art. Photoshop is well known by people outside of creative fields and is synonymous with photo editing or image manipulation.
Unlike Lightroom, Photoshop is not a digital asset manager. You can use Adobe Bridge with Photoshop to help manage and organize your files, but even Bridge does not offer all the functionality of Lightroom's Library module. Your workflow in Photoshop will be slower than in Lightroom because you can't quickly jump from one photo to another. Instead, you need to open each individual file that you work with.
Where Photoshop excels is in the actual editing and processing of your photos. Not only does Photoshop offer the same capabilities as Lightroom for basic edits, but it also offers advanced tools for tasks like photo manipulation and compositing.
Image Editing Features and Capabilities
It's important to note that the basic photo editing capabilities of Lightroom and Photoshop are identical. In Photoshop, opening a raw photo file will automatically open Adobe Camera Raw (a plugin that automatically comes with Photoshop). The Develop module of Lightroom is powered by the same technology as Camera Raw. What you can do in Lightroom's Develop module, you can do in Photoshop through Camera Raw, and vice versa.
The side-by-side comparison below shows that you have access to the same sliders and tools in Photoshop (thanks to Camera Raw) and Lightroom.
You can create presets in both programs to save the settings from a particular photo and apply them to other photos with a single click. The presets can be used in both Lightroom and Camera Raw, regardless of which program you used to create the preset (as long as you're using current versions).
However, Photoshop has a massive range of tools you can use for photo editing outside of Camera Raw. It's impossible to list all of Photoshop's capabilities, but the list includes things like:
Removing backgrounds or specific parts of a photo
Doing advanced touchups and controlling details at the pixel level
Compositing multiple images
Working with text, shapes, and other design elements
Working with layers
Depending on the type of photography you do, you may find that Lightroom meets all of your needs, or you may find that you frequently need Photoshop.
Advantages of Lightroom
When you're trying to decide which program to use, here are the most significant ways that Lightroom comes out on top:
Digital asset management. Your photo management and organization will be much easier if you're using Lightroom. This is one of the main reasons why Lightroom exists.
Easier to learn. Any photo editing software will have a learning curve, but Lightroom is much easier to learn and master than Photoshop.
Better workflow. Lightroom was designed with workflow in mind. This includes the setup of the various modules and the structure of the Develop module for editing your digital photos.
Batch processing. Lightroom has some excellent tools that help with editing similar photos. You can apply presets when importing photos, apply presets to multiple photos in the Library module, copy and paste the settings between photos, and sync edits across multiple photos.
Better capabilities with metadata. Lightroom allows you to control all of the metadata for your photos. This helps to organize them and find the images you want when you want them.
Advantages of Photoshop
Here's a summary of the most critical ways that Photoshop outshines Lightroom:
Far more powerful tools for advanced editing and manipulation. Lightroom's editing tools are sufficient for most photos, but when you need something advanced, you'll have to turn to Photoshop.
Better for compositing or removing objects. Whether you want to remove a small detail in the background or take a person right out of a picture, Photoshop can handle it. You can also composite multiple photos for artistic creations.
Layers. Although Lightroom edits are non-destructive, Lightroom does not support layers. Photoshop's capabilities with layers allow for unlimited creative potential.
Using Lightroom and Photoshop Together
It's helpful to understand the differences between Lightroom and Photoshop so you can make the best choice based on your needs. However, many photographers use both within their workflow. You can easily take an image from Lightroom to Photoshop with the keyboard shortcut command + E or control + E.
For most photographers, the best workflow is to use Lightroom to manage and organize files and basic photo editing. Whenever you need to do something more complex, like removing the background from a photo, you can turn to Photoshop. Since the workflow is faster and easier with Lightroom, it makes sense to use Lightroom for as much of your work as possible.
Lead photo by anna om.