Inkscape and Adobe Illustrator are two of the most popular options for designing and editing vector graphics. Deciding which one is right for you can be difficult, so we'll look at the details and break down the differences. Hopefully, this Inkscape vs. Illustrator comparison will make your decision easier, but rest assured, both are excellent options.
Inkscape vs. Illustrator Key Points
We'll provide more details below, but if you're looking for a quick synopsis, here are the key points in this Inkscape vs. Illustrator comparison.
Adobe Illustrator is the industry standard for vector design.
Illustrator is extremely feature-rich and also features a well-designed user interface.
You'll need a Creative Cloud subscription to get the current version of Illustrator (this is the only primary drawback).
Inkscape is free and open source.
Inkscape includes most, but not all, of the functionality of Illustrator.
Because the default file format for Inkscape is SVG, it's more appropriate for design graphics that will be displayed on-screen instead of printed.
Some people find Inkscape to have a shorter learning curve than Illustrator.
Inkscape Overview
Inkscape is free and open-source vector-based design software initially launched in 2003. The developers, community of users, and volunteers that manage Inkscape have continued to improve the program to the point that it's a viable Adobe Illustrator alternative.
You can download and use Inkscape on Windows, Mac, or Linux. The default file format is SVG, which is ideal for designing graphics used online. Inkscape is perfect for logos, illustrations, icons, website graphics, patterns, and other types of vector files. One of the primary limitations, which we'll cover in more detail below, is that it's not ideal for designing things to be printed, like brochures, business cards, flyers, and more.
Illustrator Overview
Adobe Illustrator, first launched in 1987, is the industry-standard software for vector-based design and illustration. As you would expect from Adobe, Illustrator is feature-rich and extremely powerful. You can use it for various purposes, including designing for print and for the screen. Most professional graphic designers and logo designers use Illustrator daily.
Inkscape vs. Illustrator
Now, let's compare Inkscape and Illustrator in specific areas to see which one comes out on top.
1. Features
When comparing free software to an industry-leading program designed for professionals, you'd expect the free program comes up short. However, that's not a criticism of Inkscape. If you try Inkscape, you'll see that it offers an impressive range of features that's very close to what Illustrator offers. In fact, Inkscape includes what most users find to be all of the essential tools and functionality.
---
Get millions of stock images and videos at the best price
Unlimited access. No attribution required. Starts at just $9/month.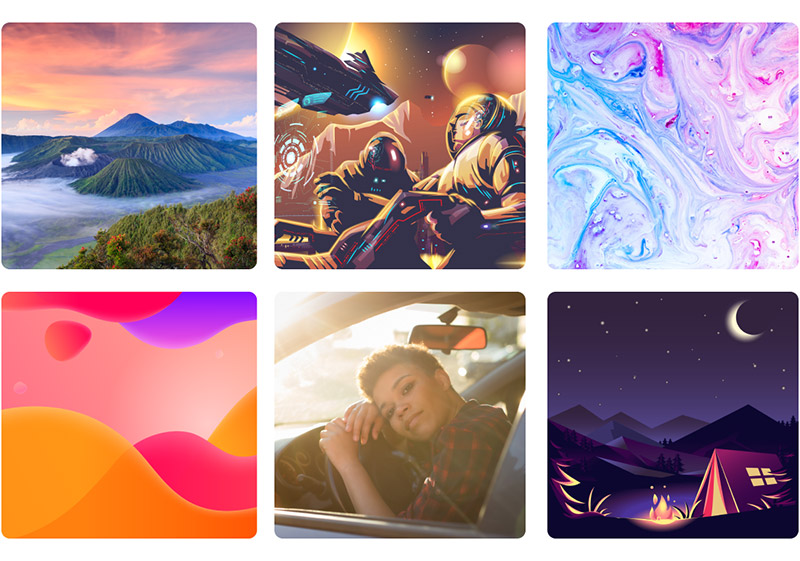 ---
Illustrator goes a little further by providing a few features that Inkscape does not, like:
Cloud features (offered to Creative Cloud customers)
Better compatibility and integration with Photoshop, InDesign, and other Adobe design software.
Better 3D tools
More options for working with text
Winner: Illustrator
While Illustrator offers an abundance of features, Inkscape is more than capable of meeting the average user's needs. Illustrator users are unlikely to find a lot of missing features if they make the switch to Inkscape.
2. Ease of Use
Both Illustrator and Inkscape offer excellent user experiences with a nicely designed interface. Although the user interface of Illustrator is beautiful, there's a lot going on. That's the downside of using such a feature-rich program.
Most beginners and new users will find Inkscape's learning curve to be a bit shorter compared to Illustrator. The user interface is clean and a bit less intimidating than Illustrator's.
Winner: Inkscape
We give Inkscape the edge for ease of use. Both programs offer a well-designed interface, but Inkscape is a little more beginner-friendly.
3. Color Modes
One of the major differences between Inkscape and Illustrator is the color modes you can design with. Adobe Illustrator supports both RGB and CYMK. You can easily select a color mode when you're creating a new document or change the color mode at any time. Generally, RGB is used for graphics that will be displayed on a screen, and CMYK is used for design items that will be printed.
Related: How to Get True Black in CMYK
Inkscape uses RGB and does not support CMYK. If you design brochures, labels, invitations, business cards, and other things for print, this could be a deal-breaker. There are workarounds or hacks, but you'll find that Illustrator is a better option if you frequently work in the CMYK color mode.
Winner: Illustrator
Illustrator has the advantage here because it supports both RGB and CMYK, while Inkscape only supports RGB.
4. File Formats
It's essential to consider the file types you commonly work with because each program supports different types of files.
The default format for files created in Inkscape is .svg. You can open files in these formats: .ai, .eps, .svg, .svgz, .pdf, .cdr, and .vsd. In addition to .svg and .svgz (zipped), Inkscape also allows you to save files in these formats: .eps, .pdf, .dwg, and .fxg.
Related: EPS vs. SVG: What's the Difference
Although you can open .ai (Adobe Illustrator) files in Inkscape and some other programs, this file format is native to Illustrator. As a result, you won't get the complete set of features for .ai files unless you're working in Illustrator.
In addition to the default .ai format, Illustrator can also open .eps, .svg, .svgz, .pdf, .dwg, .dxf, and .cdr files. When working in Illustrator, you can save files as .ai, .eps, .svg, .pdf, or .fxg.
Winner: Illustrator
Illustrator gets a slight edge in terms of file formats. Both Inkscape and Illustrator support the most popular vector file formats, but Inkscape's support for .ai files is limited since it's Illustrator's proprietary format. So if you'll be working with teammates, colleagues, or clients that extensively use .ai files, Illustrator is probably your best option.
5. Plugins
Inkscape and Illustrator both provide opportunities for users to extend the software with third-party plugins. Plugins (also called extensions or add-ons) add functionality not included in the core program.
Like other popular open-source applications, Inkscape has an active community of users and a solid selection of extensions available for download. Extensions exist for creating color palettes, exporting your work in additional file formats, working with shapes, creating patterns, and much more.
A wealth of plugins for Illustrator are available through Adobe Exchange. Some of them are free (see our favorite free Illustrator plugins) and others must be purchased. There are plugins for adding all kinds of functionality to Illustrator and integrating with other programs and apps.
Winner: Illustrator
Although the Inkscape community offers a nice selection of extensions, it doesn't compare to what's available for Illustrator. Many of the best Illustrator plugins require a purchase, but there are simply more options for Illustrator users.
6. Community
Both Inkscape and Illustrator have strong communities of users. However, Inkscape's community aspect is different since it's open-source software. Inkscape wouldn't exist without the community, and those users and developers continue to improve the program. Inkscape's website includes an active user forum where you can get your questions answered by others in the community, plus a collection of tutorials and other educational resources.
Adobe offers plenty of educational resources and tutorials on its website for users who want to learn more. However, the community aspect is stronger with Inkscape.
Winner: Inkscape
If you enjoy being a part of an active community, you'll appreciate this aspect of Inkscape.
7. Price
Of course, one of the most significant differences between Illustrator and Inkscape is price. Illustrator is only available through a subscription payment. You can pay for Illustrator on its own, or a full Creative Cloud subscription that includes more than 20 apps. In either case, Illustrator is priced at the high end for vector design software.
Inkscape is open-source and completely free. It's not like some other design apps that offer a limited free version and then a premium version that must be purchased. Instead, the full version of Inkscape is completely free to download.
Winner: Inkscape
Inkscape easily wins in the price comparison.
8. Support
There may be times when you want or need support related to the software you use. Inkscape users can get free help through the community forums. Of course, the educational resources and tutorials available through the community are also beneficial for finding answers.
Illustrator users also have access to tutorials and helpful articles, but as a paying customer, you'll also have access to paid support reps. When you're logged in, there's an option to chat with a support rep to get help with whatever issue you're having.
Winner: Illustrator
The community resources available through Inkscape are helpful, but you'll rely on volunteers, and the support options are limited. One of the benefits of paying for Illustrator is having access to Adobe's support reps if needed.
When to Use Inkscape
Because its default file format is .svg and it does not support the CMYK color mode, Inkscape is best for graphics and images used online, in apps, software, or other digital uses. It's less ideal for designing things for print.
Inkscape is also an outstanding option for hobbyists and others who cannot justify the cost of Illustrator and a Creative Cloud subscription. Although it's completely free, Inkscape is an excellent program that also meets the needs of some professionals.
When to Use Illustrator
Illustrator is a better choice for anyone who frequently designs brochures, business cards, or other print material. It's equally appropriate for online files since it supports .svg, .eps, and other file formats.
If you're working with or sharing files with other designers and professionals, Illustrator may be the best choice. Since it's the industry standard for vector-based design, most professionals use Illustrator, and files shared between colleagues are often in .ai format.
Final Thoughts on Inkscape vs. Illustrator
Both Inkscape and Illustrator are excellent options for graphic designers. The details covered in this Inkscape vs. Illustrator comparison should help you decide which one may be a better fit for you, but it's also a good idea to try both and see which one you like better. You can download Inkscape for free at any time. Adobe offers a free trial for Illustrator so you can give it a test run.
Lead image by Oktantri Purnamasari.