Adobe Illustrator is the most popular software for vector-based graphic design. As the industry standard and the choice for most professional designers, Illustrator is extremely powerful and feature-rich. However, the downside is the learning curve that new users face.
If you're just getting started with Illustrator or looking to improve your skills, this collection of Adobe Illustrator tutorials is exactly what you need.
Related: The Best Free Illustrator Plugins
Illustrator Tutorials Covering the Basics
In this section, you'll find tutorials that teach the basic foundational topics that every Illustrator user must understand. There are a few general tutorials that are perfect if you're brand new to Illustrator, and there are many other tutorials that cover the specific tools or features of the program.
Getting Started With Adobe Illustrator for Beginners
By following along with this tutorial, you'll get an outstanding overview of Illustrator in less than 30 minutes. If you've never used Illustrator before, or if you tried it but got stuck quickly, this is an excellent resource. It will provide you with a strong foundation of knowledge.
10 Incredible Adobe Illustrator Tips
In less than 10 minutes, you'll learn 10 tips that will help you to work more efficiently and effectively in Illustrator. This video is ideal for beginners, but even intermediate and advanced users will benefit from the tips that are shared.
---
Get millions of stock images and videos at the best price
Unlimited access. No attribution required. Starts at just $9/month.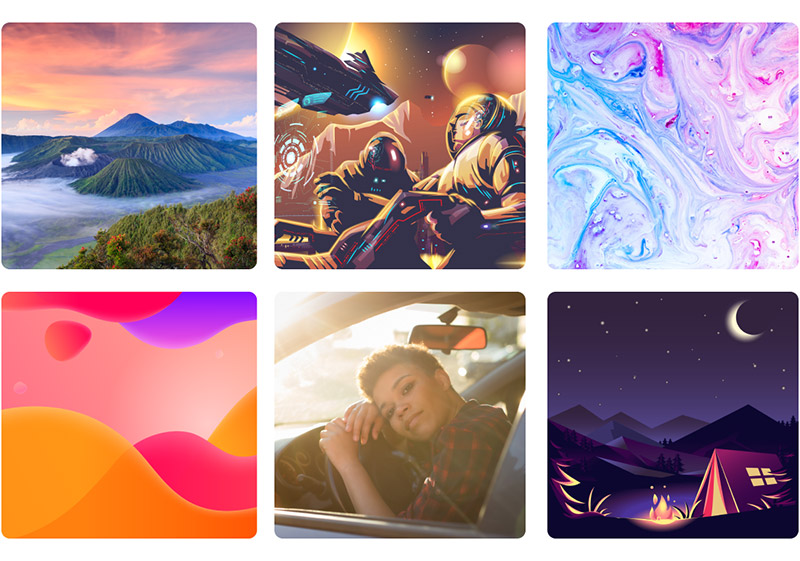 ---
How to Work With Lines and Paths in Illustrator
Lines and paths are essential for many of the designs you'll create in Illustrator. This video is about six minutes long and will help you to understand how to create and work with lines and paths.
How to Create and Work With Shapes in Illustrator
You can use basic shapes to create just about anything in Illustrator if you understand how they work. Whether you're designing an icon, a character, or a logo, understanding how to use shapes will prove to be extremely useful.
How to Split Shapes
Continuing on the subject of shapes, this brief tutorial shows how you can split shapes to create new, customized shapes that become the building blocks of your design.
Pen Tool Beginner's Guide
The pen tool is one of the most powerful and useful tools in Illustrator, but it's difficult when you're first getting started. In about 15 minutes, you'll learn the details of the pen tool, how it works, and how you can use it with precise control.
Curvature Tool Illustrator Tutorial
The curvature tool is similar to the pen tool, but a little different. Once you understand the pen tool, the next step is to learn how to use the curvature tool.
Blend Tool Tutorial
The blend tool can be used in a lot of different ways. This short tutorial shows how you can use the blend tool to create an abstract design from simple lines.
The Pathfinder Tool
The pathfinder tool is great for working with shapes, and there are many different things you can do with it. In less than four minutes, this tutorial covers the basic options of the pathfinder tool with specific examples of how it can be used.
Path Eraser Tool and Join Tool
Learn how to create your own custom shapes and designs with the help of the path eraser and join tools. This tutorial is less than six minutes long and provides a solid overview of these tools.
3 Secret Tools You Need to Know
Most Illustrator users don't yet know about these new features and tools. Be sure to watch this and you'll save time while creating beautiful work.
How to Work With Text in Illustrator
Many of your designs will involve text, so it's critical to understand the capabilities that Illustrator provides for creating and working with text. In less than four minutes, you'll get an excellent overview of the type tool and the options that are available to you.
How to Easily Create Text Effects
This 16-minute tutorial shows exactly how you can create several different effects with the text in your designs. These are very practical tips that show techniques you'll find yourself using regularly.
How to Curve and Warp Text
Learn how to put text on a path or warp text to create a variety of different looks and effects.
Exporting Design Files in Illustrator
Once you're done with your work in Illustrator, it's time to export. This three-minute video explains the process and the options you'll have when you export a file.
Related: The Best Vector Editing Apps
Illustrator Design Tutorials
After going through the basic tutorials in the section above, you're now ready to put this new knowledge into practice. The tutorials in this section teach you how to design specific things, step-by-step. Follow along with any or all of these tutorials to rapidly develop your skills and capabilities with Illustrator.
How to Create and Apply Patterns in Illustrator
There are many different ways patterns can be useful in your work once you understand how to use them in Illustrator. This three-minute video covers all the basics so you can get up and running with patterns as soon as possible.
Retro Triangle Pattern in Illustrator
Learn how to create this awesome retro or vintage pattern of color by following along with this six-minute tutorial.
Create Seamless Background Patterns
This pattern with circles is slightly more complicated, but still easy to create by following along with this step-by-step tutorial.
Abstract Background Tutorial (Waves and Particles)
By following along with this tutorial, you'll not only learn how to create the background shown here, but you'll also be able to use the same concepts to create unique and original designs. Once you understand how to do it, it's easy to experiment on your own.
Design an Isometric Grid
Here's a technique you can use to create a grid that will serve as a background or pattern within your designs.
How to Convert Handwriting to Vector Art in Illustrator
Creating your own customized handwritten vector art is easy. This video shows exactly how to use live trace to vectorize your hand-drawn text. If you like drawing and sketching on paper, there are many different ways to put these techniques to work.
How to Create an Isometric Text Effect in Adobe Illustrator
In about seven minutes, you'll learn how to create this nice 3D text effect that can be used to make letters and words stand out as a part of your design.
Retro Text Effect in Adobe Illustrator
We all love retro styles and effects, and this detailed tutorial walks you step-by-step through the process of designing this beautiful retro effect.
3D Fluid Text Effect
Looking for a short tutorial? This one is just under a minute long and shows how you can quickly create this trendy 3D text effect.
How to Customize Fonts in Illustrator
Editing or customizing letters is one of the best ways to get genuinely unique and customized designs. This tutorial shows how you can take a standard font and give the letters new life and adjust them to suit your needs.
Vector Ninja Characters Beginner Tutorial
Illustrator is a powerful tool for character design. In this video, you'll learn just how easy it can be to create a high-quality, professional-looking cute character.
Simple Letter Logos
Learn how to create a professional logo from a simple letter.
Design a Gradient Logo
Here's another logo design tutorial, but this one features a colorful gradient design that is sure to be noticed.
Create Simple Icons in Illustrator
Designing custom icons may sound difficult or overwhelming, but this 10-minute video shows exactly how you can create simple custom icons in almost no time at all.
How to Draw Ribbons
Ribbons can be used as an element in many different types of designs. Here, you'll learn exactly how to design your own custom ribbons in Illustrator based on a sketch.
Vector Illustration Tutorial for Beginners
This tutorial (13 minutes) shows you how to create a nice nature-inspired artwork that could serve as a background.
Flat Design Potted Plants
Learn how to use shapes to create this set of plants featuring a flat design style.
Flat Design Water Drop
Here's another tutorial that shows how to work with a flat design style. This one shows how to create a water drop, which could be used as part of a larger illustration or as an icon.
Creating a Wolverine Logo: Live Mirroring in Adobe Illustrator
Here, you'll learn how to use live mirroring to design a symmetrical object. You can use the same concept for other types of symmetrical characters, icons, logos, geometric objects, and more.
Learn How to Draw a Character
If you want to learn more about character design, you'll love this tutorial that breaks it down for you.
Final Thoughts on Adobe Illustrator Tutorials
If you're looking to take your graphic design skills to the next level, the Illustrator tutorials featured here are just what you need. We recommend starting with the basics if you're new to Illustrator. That foundational knowledge will make your work easier as you move on to more involved tutorials.
For more on Illustrator, please see: