Our contributors gave us honest feedback, and we've listened. You said our upload process was frustrating, painful, and slow. So our team spent the last couple of months building a new upload and submission process with a focus on providing simplified and efficient tools that make it easier for you to submit content.
Watch a video tour of the new process!
Watch the Thai video translation here.
What's New?
Redesigned UI
Multi-content drag and drop web upload support for photos, vectors, and videos
Automatic preview generation support for vectors and video
Detailed error messaging
Grid view for pending submissions
Batch editing support for adding releases, editing titles, and keywords
License flexibility
Simplified content statuses
Tech and infrastructure improvements to increase performance and speed
Multi-Content Uploading
Our new upload allows contributors to upload photos, vectors, and videos at the same time! No need to select a content type, just grab the files you want to upload into the dropzone and they will automatically begin uploading.
Detailed Error Messaging
If an error is encountered during upload, you will see an alert bar and more information icon that will share details of the error that occurred.
Quickly Add Data to Your Resources
Possibly the biggest feature in this update, we have completely redesigned the tools used to add important details like title, keywords (see our keywording tips), and releases to your submission. We also built a multi-select feature that enables users to apply changes to up to 100 resources at one time! We believe this feature will be a valuable time saver for contributors.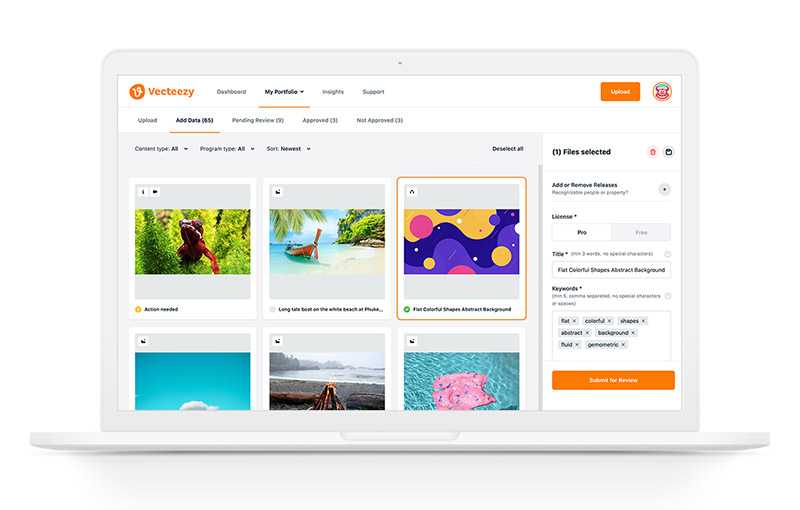 License Flexibility
Another new feature we're introducing provides Vecteezy contributors with more control over their content and where it is positioned in the Vecteezy collection. Contributors can now choose which license type – Free or Pro – they would like to assign to newly uploaded files. Vecteezy still makes the final decision regarding which files are accepted to Pro, so we encourage contributors to review our Free and Pro guidelines before you submit your files to the Pro collection.
---
Get millions of stock images and videos at the best price
Unlimited access. No attribution required. Starts at just $9/month.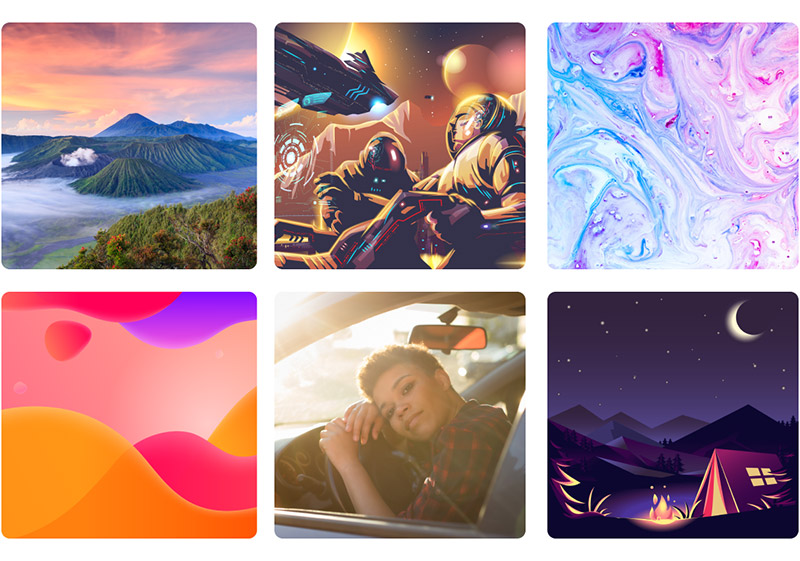 ---
Updated Content States
We have simplified the way we communicate the state of your resources during the submission and review process.
Add Data
Pending Review
Approved
Not Approved
Tech and Infrastructure Improvements
Behind the scenes to increase performance and speed, we quadrupled the number of servers processing background jobs, resulting in faster imports and fewer hangups due to large batches of resources being submitted.
We also transitioned to a single-page application to allow contributors to work without having full page loads while submitting content. This transition makes our process faster since less data has to be rendered and shared over the network.
Conclusion
There is a lot to discover in this update. Be sure to upload now and experience the new features for yourself. As always, please share your feedback with our contributor support team so we can continue to improve our platform.
Lead photo by liufuyu.