As a Vecteezy contributor, the amount of visibility and exposure your resources receive will impact the number of times those resources are downloaded, and the number of downloads will impact how much money you earn. One of the best ways to maximize the visibility of your resources (and your earnings) is through the use of metadata, including the resource title, description, and keywords.
Metadata is used by the Vecteezy search engine to provide the most relevant results when a visitor searches. It also influences the resources that are displayed in other places throughout the site, such as related vectors/photos/videos.
When you're uploading new resources, you'll benefit by putting some thought into the keywords you enter, rather than rushing through the process. Effective use of keywords is the most important action you can take to increase the exposure a resource receives. Since each resource has the potential to generate passive income well into the future, including the right keywords can go a long way toward maximizing your income as a contributor.
A few important details about keywords:
Keywords cannot be changed after the resource has been submitted.
Vecteezy recommends that contributors enter 20-30 keywords for each resource. The minimum is 5 and the maximum number of keywords is 50.
Keywords can be single words or multi-word phrases.
Currently, the keywords must be in English.
Tips for Using Keywords Effectively
Since keywords are critical for your resources to be discovered by our users, let's take a look at how you can use them to maximize exposure.
1. Start with the Five Most Important Keywords
The Vecteezy search algorithm places added emphasis on the first five keywords. You'll want the most significant keywords to be listed first to take advantage of the bump this might be able to produce in the rankings.
Think about the words people would most likely use to search for your resource. You can also view our Top Searches page to see the words and phrases that have been the most popular recently among Vecteezy users.
---
Get millions of stock images and videos at the best price
Unlimited access. No attribution required. Starts at just $9/month.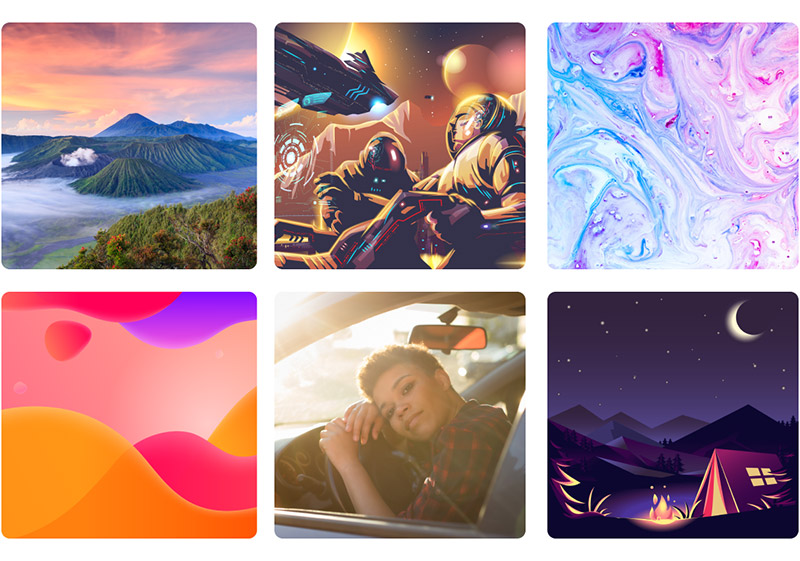 ---
2. Describe the Subject in the Most Basic Terms
When you first look at the photo, video, or vector illustration, what immediately jumps out at you? For example, keywords like "boat", "lake", and "mountains" could be used with the photo below.
The most relevant keywords should be listed first, with the first five keywords being the most important.
3. Focus on the Major Details and Skip the Insignificant Details
Although you should be entering keywords to describe the primary subject and the important aspects of the resource, you don't need to list everything in the photo/video/vector. The insignificant details can be left out of the keywords.
For example, the photo below includes a light pole, but it's an insignificant detail. Someone searching for "light pole" would be unlikely to download this photo, so it's not an ideal keyword.
Keep in mind that keywords are used to help visitors find the resources they're looking for. The goal of keywording is to help the right visitors to see your resource, not simply to get anyone to see it.
If a visitor finds your resource as a result of a search and ultimately downloads the file, that sends a signal to the Vecteezy search engine that your resource is extremely relevant for whatever word or phrase the visitor used in the search. Likewise, if your resource is shown but never downloaded for a particular search, that sends a signal that your resource is probably not very relevant for that search.
You'll want your resources to show up in the most relevant searches where they have a strong chance of being downloaded, which can help them to rank even higher. With that in mind, there's no benefit to adding insignificant keywords.
There is no need to fill up all of the spots just so you have the maximum number of keywords. Use keywords that are accurate and likely to drive downloads, but don't stuff in extra keywords just for the sake of having more.
4. Add Different Types of Keywords
While you should start with the basic details of the photo like the subject and location, you can also add descriptive keywords, stylistic keywords, and conceptual keywords.
Keywords that describe the resource or the main subjects in the resource can be extremely useful for increasing visibility. Additionally, you can use keywords that describe the emotion or feeling that is being expressed. Some examples of descriptive keywords include:
beautiful
old
happy
colorful
dark
dramatic
Other keywords can be used to describe the style of the resource. Examples include:
minimal
retro
hand drawn
abstract
Keywords can also be used to indicate the concept or idea that you want to get across. Users may search for a resource based on the message or purpose for which the resource will be used. Examples include:
sustainability
diversity
teamwork
leisure
freedom
5. Use Longtail Keywords When Relevant
Keywords don't have to be single words. You can also use multi-word phrases to create longtail keywords that may give your resources a better chance of showing up in more specific searches.
For example, the photo below includes the keyword "Grand Canyon National Park". If a visitor is searching for a photo from a Grand Canyon National Park, there's a great chance they will find this photo thanks to that keyword (it's currently ranking at the top of the search results for that phrase).
6. Check Your Spelling
It's easy to make a spelling mistake, but that mistake could hurt your resource's visibility. Be sure to quickly check the spelling of your keywords so that they'll match up with the words visitors are using in their searches.
Checking the spelling of your keywords is especially important if English isn't your first language. There are a few ways you can do this:
Do a quick Google search for the keyword to make sure the spelling is correct and that the search results are what you would expect for that word.
Use a free spell checker like Grammarly.
Use a tool like CorrectEnglish that helps people who speak English as a second language (free and paid plans are available).
7. Use the Main Keywords in Your Title
While the title is separate from the keywords, it serves a similar purpose. Just like keywords, the title will be used for search purposes. Each Vecteezy resource must have a unique title (you can't use the same exact title for multiple resources) in order to increase the accuracy of search results and to give each resource a chance to be seen for relevant searches.
The title that you enter for your resource will also serve as the page title (in the HTML code) for that resource's download page. The page title is very important for SEO purposes that can influence your ranking in a Google search. The majority of traffic to your resource is likely to be from Google SEO, so you'll want to pay attention to anything that can help you to rank higher.
Let's take a look at an example. The vector below has the title "Beautiful Vintage Pink And Red Roses Textile Vector Background".
Below is a screenshot of the first page of the Google search results when I search for "vintage rose textile vector".
You can see that this file shows up right at the top of the search results and presumably, the title is a major factor in that ranking. With that in mind, make sure that you're choosing titles that include the most important keywords that people might use if they're looking for a resource like yours.
What Not To Do: Keyword Spam
When you're entering keywords for your resources, it's important to ensure that the keywords you're selecting are relevant to your vector, photo, or video. Don't use popular search terms as keywords unless they're relevant and applicable.
You might assume that entering popular search phrases in your keywords would help your content to show up in more search results, but keyword spam will do more harm than good. Visitors are unlikely to click or download irrelevant search results. Vecteezy Reviewers may also remove irrelevant keywords during the review process.
Your creative resources will perform best when they're appearing in the right searches. If a high percentage of searchers are clicking on a resource and downloading it, that sends a signal that the resource is highly relevant and should be ranking for that search term and related phrases. If your resource is showing up in search results and never being clicked or downloaded, that could hurt your search rankings. For this reason, you'll want your resources to appear only in relevant searches.
Metadata for Editorial Content
While the metadata you enter is important for all content types, it's even more essential for content released under our editorial license. The metadata for editorial content should be informative due to the way the content will be used.
The primary uses of editorial content include illustrating news and providing commentary or opinions in newspaper or magazine articles, textbooks, blog or website articles, or in non-commercial multimedia presentations (such as film).
When users are searching for these types of resources, they're likely to enter the names of places or events, the date an event took place, a person's name, or the name of a group, organization, or cause associated with the event. Including these words and phrases in your content's title or keywords will help to make it more accessible to journalists, editors, and designers looking for this type of content.
Users are less likely to search with conceptual terms to find editorial content, which is different from the typical search patterns for commercial content.
It's also critical that metadata for editorial content is accurate, complete, and authentic. The content itself (example, photo or video) should accurately reflect the event or location, and the metadata should also support that message. Editorial content should not be heavily edited or digitally adjusted. Adjustments that are made should be mentioned in the metadata if they impact the message of the content.
Before you submit editorial content, be sure that you've included the following descriptive information in the title, keywords, or both:
City/state/country
Event name
Event details or day/time
Names of organizations or causes
Names of prominent people involved
Final Thoughts
Since keywords can have such a big impact on the visibility of your resources, putting these tips into practice will help to increase the amount of money that you earn as a Vecteezy contributor. You need to consider the keywords and phrases that visitors might use to find your file. With the right approach, you'll see the number of views and downloads of your resources increase.
Not a contributor yet? Learn more about becoming a Vecteezy contributor and create your contributor account today.
Lead image by bernardasv