We're here to help you on your creative journey. In addition to providing access to millions of high-quality vectors, stock photos, and stock videos, we're also committed to simplifying your work and helping you to save time.
Check out these quick tips to use Vecteezy like a pro.
1. Work Faster With the Dashboard
Looking for an image you viewed or downloaded recently? Your file history is all in one convenient spot: your dashboard.
You can also access all of the license information for the files you download from the dashboard—just navigate to "Downloads History." From here you'll see the date of download, license type, and you can re-download any files very easily if needed.
From the dashboard, you can also view your payment history and print receipts. You'll be able to see all the details like the date, amount, and description of each payment.
Visit your dashboard and check it out for yourself.
2. Save the Files You Love With Collections
Collections are the key to saving, categorizing, and sharing the files you love most. Plan ahead and save time by organizing thousands of artwork files without having to download them all immediately.
---
Get millions of stock images and videos at the best price
Unlimited access. No attribution required. Starts at just $9/month.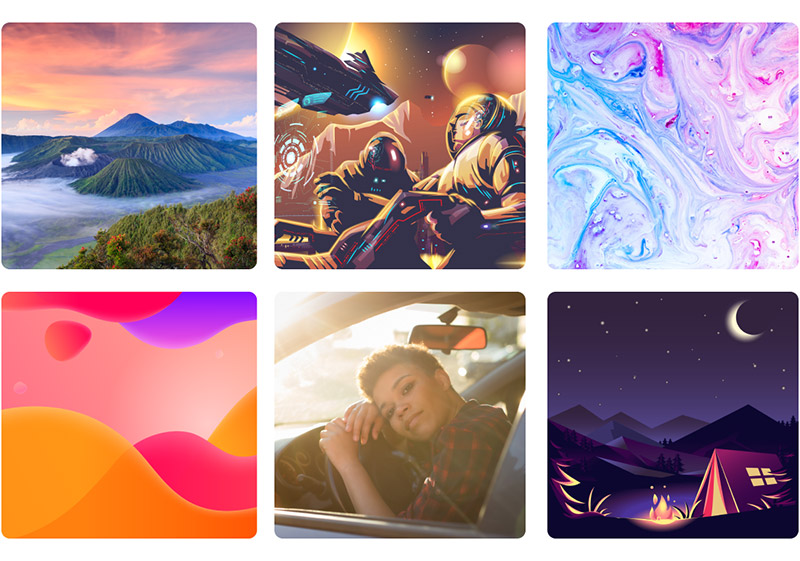 ---
You can create multiple collections for different purposes and there are many different ways you could use them. Your collections can be private (only visible to you) or public. You can use public collections to collaborate with teammates and clients or create private collections strictly to help with your own organization.
Vecteezy resources can be easily added or removed from collections at any time. To save an image to a collection, simply click the bookmark icon near that image.
Access your own collections by clicking on "My Account" and then selecting "Collections" (as shown in the screenshot above).
3. Find the Content You Need Fast With Filters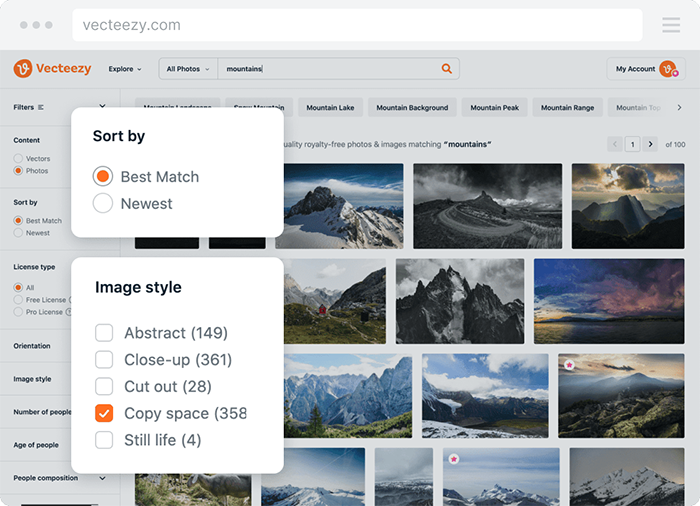 Vecteezy offers access to millions of high-quality resources and we know that finding the right one is critical. To find the perfect image from all the options, start by searching for some keywords and refine the results using search filters.
Search filters allow you to toggle between vectors, photos, and videos and narrow your results further based on the attributes that you're looking for. The filtering options will vary depending on whether you're searching for vectors, photos, or videos. You can use the filtering options to switch the search from one content type to another and to see results based on the best match or the newest resources.
Filters allow you to narrow the search results based on details like the license type (Free or Pro), orientation, and more. Making use of filters is the best way to quickly find exactly what you are looking for.
Try it out for yourself with any search of your choice, or use this search for "mountains" as a demo. You can use the filters to narrow the results and find exactly what you want.
Conclusion
Make use of the features available with your dashboard, collections, and search filtering in order to get the most out of Vecteezy while saving valuable time.