Throughout time, certain pattern styles have become permanent fixtures in design. Whether you want to create a beautiful background, establish a specific style or theme for your design, or subtly enhance the design, patterns can be excellent resources. The patterns available from Vecteezy can help you to save time and speed up your design process.
This page covers some of the most popular styles of vector patterns, with an example of each. You'll find plenty of ideas and inspiration that can be put to good use in your own work. Click on any of the images in this article to be led to the download page for that resource.
Nautical
One of the most timeless design concepts, the nautical or coastal theme remains popular and usable year after year. The colors most associated with nautical design are dark, rich blues (like navy) and white or off-whites, making for dramatic contrast.
Nordic or Scandinavian
We love the clean, simplistic, and functional aspects of Scandinavian design. Originating in a number of Nordic countries, this minimalist design style features white, beige, and pastel colors.
Browse Nordic or Scandinavian patterns →
Azulejo
The word "Azulejo" originates from the Arabic phrase az-zellīj, and is used to describe a Portuguese and Spanish ceramic tile. Tin-glazed and painted, this ornamental art form is found traditionally in architectural applications, adorning places of worship, palaces, homes, restaurants, and train or metro stations. Azulejos are decorated in a simple color palette, dominated by blues and whites.
---
Get millions of stock images and videos at the best price
Unlimited access. No attribution required. Starts at just $9/month.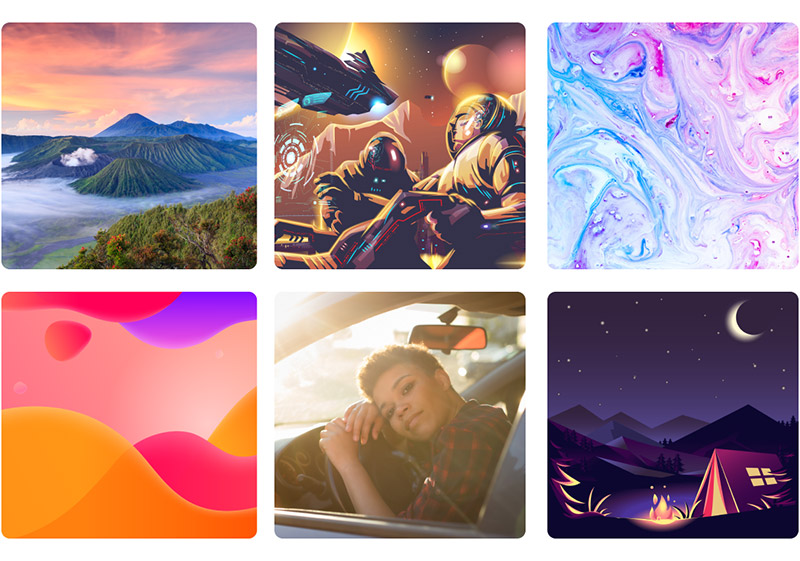 ---
Terrazzo
Another architectural element, terrazzo is a composite material normally found in floor and wall treatments. Consisting of chips of colored glass, marble, granite, and quartz, terrazzo designs are traditionally made up of a white marble base with various grays, blues, greens, and yellow chips added in.
Plaid
Plaid or tartan is a pattern consisting of crisscrossed, horizontal and vertical bands in multiple colors. Tartans originated in woven wool, but are now used in a multitude of different designs, clothing, and other physical and digital materials.
Retro
The expressiveness of past eras often translated into designs with flashy text executions featuring shiny chrome, halftone lettering, and extruded elements, while the backgrounds of the past were often bright, bold neon coloring with extra flair and extravagance.
Indigenous
Indigenous patterns have evolved into a unique art form that represents the diversity and vibrancy of Indigenous culture, as well as resilience, tradition, and sovereignty. Within Indigenous communities, various patterns are incorporated into blankets or quilts which are made to be gifted at baby showers, naming ceremonies, weddings, and memorials.
Floral
Floral motifs and patterns have been around for centuries, with ancient Egyptians first commissioning highly stylized wreaths, garlands, and centerpieces for big events, dating back as early as 2,800 B.C. Lately, many floral patterns lean on symmetry and muted tones to produce clean, authentic designs.
Conclusion
While this covers some of the most popular types of patterns, there are plenty of other possibilities as well. Browse our collection of patterns to find others that you can download and use in your own work.