Photoshop has been the industry standard for photo editing and design over the past three decades. While there's no doubt about Photoshop's capabilities, there are a few reasons why you may be searching for an alternative.
First, Photoshop can seem daunting and complicated. There's a lot to learn if you want to become a Photoshop master. It's great that Photoshop has so much to offer, but you may be looking for something with a shorter learning curve.
Second, you'll need a subscription to Adobe's Creative Cloud to use the current version of Photoshop. Some people prefer to own their software outright rather than getting locked into a monthly subscription payment.
So, what's the alternative?
Thankfully, there are quite a few affordable and powerful applications that can be used instead of Photoshop. Because Photoshop is such a versatile program that can be used for different purposes, several alternatives can replace certain functions of Photoshop. Think about the way you use Photoshop and the functionality that's critical to you.
The Best Photoshop Alternatives
If you're looking for a cheaper option or to avoid monthly Creative Cloud subscriptions, there are plenty of alternatives out there! Here are some of the best Adobe Photoshop alternatives you need to try.
The Best All-Around Photoshop Alternative: GIMP
GIMP is free open-source software that offers many of the same features you'll find in Photoshop. Of course, as you would expect from free software, it's not going to be as powerful or robust as Photoshop. However, GIMP can easily meet the needs of many users, especially hobbyists and enthusiasts.
---
Get millions of stock images and videos at the best price
Unlimited access. No attribution required. Starts at just $9/month.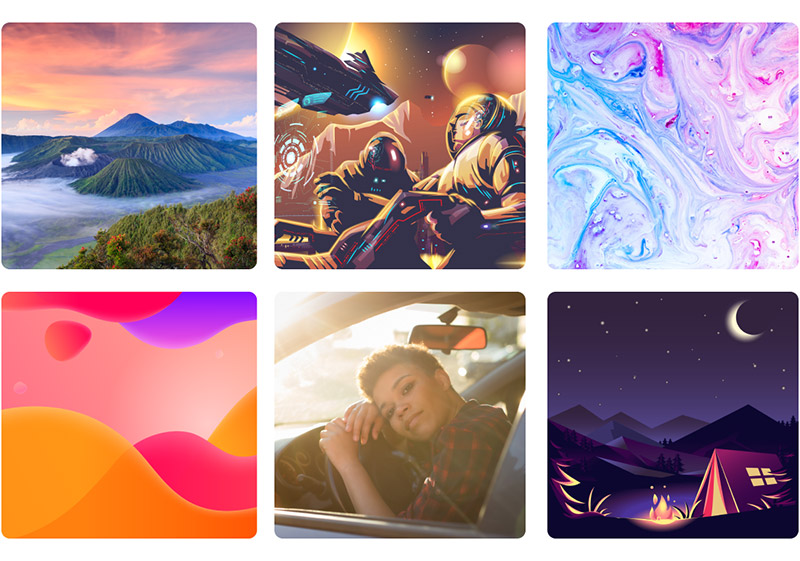 ---
What makes GIMP different from the other programs we'll discuss later in this article is that it's a versatile Photoshop alternative that can handle many different tasks, including photo editing, photo manipulation, digital art, and graphic design. If you're looking to replace Photoshop with a single program, GIMP is the best choice.
As a cross-platform GNU Image Manipulation Program (GIMP), GIMP is available for GNU/Linux, Windows, and Mac. Since it's open-source software, the development of GIMP is reliant on the community of users, so new versions and improvements aren't as predictable or consistent as what you'll get from a major corporation like Adobe.
The learning curve with GIMP isn't that much different than Photoshop. With so many different tools and capabilities, it will take some time to master GIMP. And if you're used to Photoshop, GIMP's user interface is a bit different, so you'll need to get used to that as well.
The Best Photoshop Alternative for Photo Editing: Affinity Photo
If you primarily use Photoshop for photo editing or post processing, you'll love Affinity Photo. It has all the tools you'd expect in a high-end photo editing program like Photoshop, but it's much cheaper and with no subscription payment. You'll be able to adjust exposure, color, and other basic photo editing features. Affinity Photo can even be used for more advanced work like masking and layering, as well as compositing images.
You can use Affinity Photo for HDR merging, focus stacking, and panorama stitching. Use the advanced selection tools to remove backgrounds or cut out objects from your photos. You can work with raw files or JPGs.
In addition to the photo editing tools, Affinity Photo also offers a wide range of brushes and a brush engine that can be used for digital painting, with support for Wacom and other graphics tablets. You can even import Photoshop brushes in .abr format.
There's also a text tool so you can decorate your photos or create images with text.
Affinity Photo is available for Windows, Mac, and iPad.
The Best Photoshop Alternative for UI and UX Design: Figma
Several years ago, most web and UI/UX designers used Photoshop for creating mockups and designs before coding. Today, there are a number of tools that have passed Photoshop for this use case (see this list of prototyping tools), and our favorite option is Figma.
Figma is a browser-based design and collaboration tool. There's a free plan that will meet the needs of many individual designers, and paid plans that are better options for teams.
Whether you're designing a website or app, you'll love the prototyping capabilities of Figma. You'll create prototypes that look and feel like the real thing, including animation and interactive components.
Once you've created a prototype, you can share it with team members or stakeholders. Figma provides you with a link to share the prototype, and an embedded commenting system makes it easy for others to provide feedback.
There are also a growing number of Figma plugins you can use to add more functionality based on your needs. Thanks to the community of users, there are also templates you can use to speed up your design process.
The Best Photoshop Alternative for Art and Illustration: Procreate
Procreate is an art and illustration app created specifically for the iPad and the Apple Pencil. They've also added Procreate Pocket for the iPhone. Currently, there's no desktop version and nothing for Android users.
Designers and artists who have been using Photoshop for digital painting, illustration, and sketching will love Procreate. While it's much more limited in scope than Photoshop, it's outstanding at what it does. It's feature-rich, but also intuitive and easy to use.
Creating digital art that realistically resembles traditional art is possible with Procreate. It comes pre-loaded with more than 200 brushes for drawing, sketching, or painting with charcoal, pencils, inks, and painterly textures. Each brush can be customized, and you can also create your own custom brushes or download and install brushes from third parties.
Since it's an iPad app, Procreate is built with convenient touch gestures, which adds to the ease of use.
Thanks to the powerful Valkyrie graphics engine, there's no lag when you're working with Procreate. The brushes move as fast as you do.
The Best Photoshop Alternative for Digital Painting: Krita
Like GIMP, Krita is also free and open source. If you use Photoshop for digital painting, you'll definitely want to consider Krita as a viable alternative. You can use it to create concept art, texture and matte paintings, as well as illustrations and comics.
If you're a Photoshop user or have used other Adobe design software, you'll feel at home with Krita. The user interface is similar, although not quite as modern or polished. Thanks to the familiar feel, the learning curve is shortened.
Krita provides all the tools and features you'll need for digital painting, including a powerful brush engine.
Final Thoughts
There's no doubt that Photoshop is a powerhouse of a program. But for those looking to avoid a subscription payment or reduce the learning curve, there are some legit Photoshop Alternatives. None of the applications we've covered here will replace everything that Photoshop has to offer, but depending on your specific needs, you may find another program that's a better fit for you.