While Adobe Illustrator and Photoshop are well established as industry leaders, the cost of a Creative Cloud subscription can be a barrier for those who want to get started with design. Fortunately, there are also some excellent options for free design software, and you might be surprised by the capabilities of some of the free options.
This article covers the best free options that you might want to consider. Our list includes vector editors as well as software for photo editing and raster graphics. For more details on the differences, please see our article Raster vs. Vector: Understanding Design File Types 101.
1. GIMP
Best for designers who edit photos and bitmap images on a budget.
Availability: Windows, macOS, Linux
GIMP is short for "GNU Image Manipulation Program". This open-source raster (bitmap) graphics editor was first released in 1996 and has been a popular free Adobe Photoshop alternative for years. Like Photoshop, GIMP can be used for graphic design and photo editing/manipulation.
Although it does not offer every single feature or function available in Photoshop, GIMP is surprisingly capable for free software. The user interface is fairly similar to Photoshop and it can also be customized to suit your needs and preferences.
There is a bit of a learning curve with GIMP, but if you're willing to put in a little time to become familiar with it, you'll find it to be very powerful software. Because GIMP is open-source, there is also a large community of users and many plugins that have been developed for it.
2. Inkscape
Best for designers who want a full-featured vector editor for free.
Availability: Windows, macOS, Linux
While GIMP is a popular Photoshop alternative, Inkscape is a great alternative to Adobe Illustrator. Like GIMP, Inkscape is free open-source software. The primary file format in Inkscape is the Scalable Vector Graphic (SVG). This is a highly versatile file type. Files that you create in Inkscape can be opened and edited in other vector editing software and apps.
Inkscape was first released in 2003 and has grown in popularity while developing a massive user base. The powerful tools and features in Inkscape make it a great choice for any designer who works with vector files. However, there will be a learning curve with Inkscape since it is very robust software.
One common complaint from Inkscape users is the fact that it can be slow, especially when you're working with very large files. Overall, Inkscape is a great choice if you're looking for design software that is completely free.
3. Gravit Designer
Best for designers who want to try a high-quality vector editor before purchasing.
Availability: Windows, macOS, Linux, Chrome OS, Browser

Unlike GIMP and Inkscape, Gravit Designer is not open-source and it is not completely free. There is a free version of this vector editor that you can use, and if you like it, you could upgrade to the paid version (which is very reasonably priced). Both the free and paid versions feature a very well-designed user interface.
As you would expect, the free version of the software comes with a lot of limitations, compared to the full version. With the free version, you'll be limited to using it online in a web browser.  A number of tools are included, but many features require the paid version. For example, the free version only allows you to work in the RGB color space.
4. Photopea
Best for browser-based editing.
Availability: Browser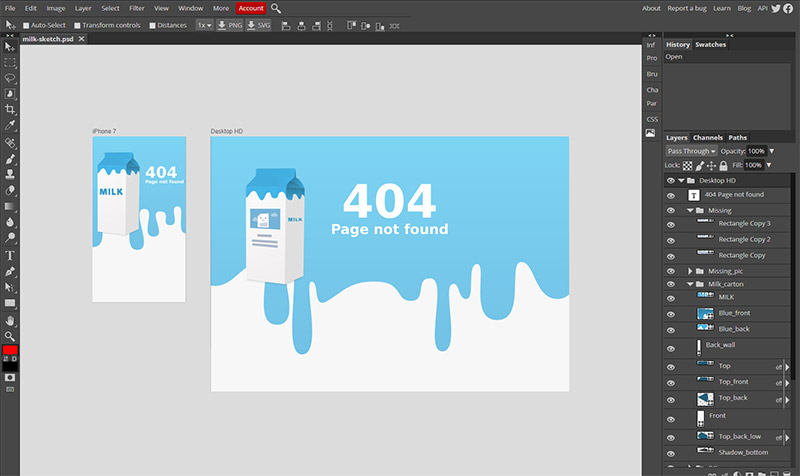 Photopea is a free online photo editor that offers some of the same functionality as Photoshop. You can use Photopea to open files created in Photoshop, GIMP, CorelDRAW, Sketch App, and others.
While it won't replace Photoshop for professional designers or photographers, the features and tools included pretty extensive for a free tool. It provides everything needed for most hobbyists. Since it can open Photoshop files and can be used directly from the browser with nothing to download or install, it can be a good option for editing or creating files when you don't have access to Photoshop.
The Photopea user interface is fairly similar to Photoshop, so it will feel familiar. One noticeable difference is the presence of ads in Photopea. You can upgrade to a premium version if you want to get rid of the ads, but with prices starting at $9 per month, it's comparable to what you would pay for Photoshop.
5. Krita
Best for artists and illustrators.
Availability: Windows, macOS, Linux

Krita is free and open-source software for drawing and painting. It is ideal for concept art, textures, matte painting, illustrations, and comics.
Although it is completely free, Krita is very feature-rich and includes everything professional illustrators and digital painters will need. The user interface is well-design and customizable, and it also resembles the UI that you would find in Photoshop or Illustrator.
Krita comes with a variety of different brushes that can be used, and there are also many add-ons available thanks to an active community of users.
6. Daz Studio
Best for 3D design and rendering.
Availability: Windows, macOS

Daz Studio is free to download, although it hasn't always been free. In the past, the software was available for purchase, however, the company has transitioned to giving away the software for free and selling content that can be used within the program, like fully designed people and characters.
Although the software is free, it is one of the best options for 3D rendering. With its help, you'll be able to design 3D people, animals, virtual environments, and more.
Conclusion
As you can see, there are some great options if you're looking for free design software. All of these programs help to remove barriers that would otherwise prevent some people from getting started with design. Each one of these options offers something different, so choose the one that seems to be the best fit for your own needs.
Lead image by monkeybusinessimages.