You know Vecteezy as a go-to source for high-quality visual resources. Millions of designers, marketers, and hobbyists come to our site each month for free vectors, stock photos, and 4k stock videos. But most of our visitors and users don't know the story behind Vecteezy or the man who created it. We'd like to change that, so we're putting the spotlight on our Founder and CEO, Shawn Rubel. We hope you're inspired by the story of how he took Vecteezy from a part-time creative outlet to one of the largest and fastest-growing creative marketplaces in the world.
The Story Behind Vecteezy
Originally from Canada, Shawn graduated from Brock University (2004) in Ontario with a BA in Visual Arts. Three years after graduating, he relocated from Ontario to Bowling Green, Kentucky and began working in internet marketing. With little to his name, Shawn packed up his car and drove down to Kentucky with his wife, not knowing what the future would hold. The new exposure to the world of internet marketing led Shawn to become obsessed with starting an e-commerce business, launching several failed ventures as side projects.
In his work as a designer, Shawn often struggled to find quality images and design resources that fit within the budget.  Looking back on this frustration, Shawn reflects: "I realized from my own experiences as a designer that there was a massive opportunity to provide affordable (and free) graphic resources."
Meanwhile, Shawn also heard from several friends and colleagues who were struggling to earn money by contributing to some of the leading creative marketplaces at the time. He knew there had to be a better way to meet the needs of end-users while also offering better opportunities for contributors.
"I wanted to solve two problems: I felt like there had to be a way to democratize creative resources and better support the creative community that built the content."
With a desire to make creative resources more accessible, Shawn launched Brusheezy in 2007. At Brusheezy, designers can find and download high-quality Photoshop brushes and resources created by others in the design community.
Brusheezy gained popularity almost immediately. Graphic designers loved the free brushes, patterns, and other downloadable resources offered at the site. Based on the initial success of Brusheezy and the amazing feedback from the community, Shawn followed the same approach to create Vecteezy, where designers can download beautiful vector graphics.
---
Get millions of stock images and videos at the best price
Unlimited access. No attribution required. Starts at just $9/month.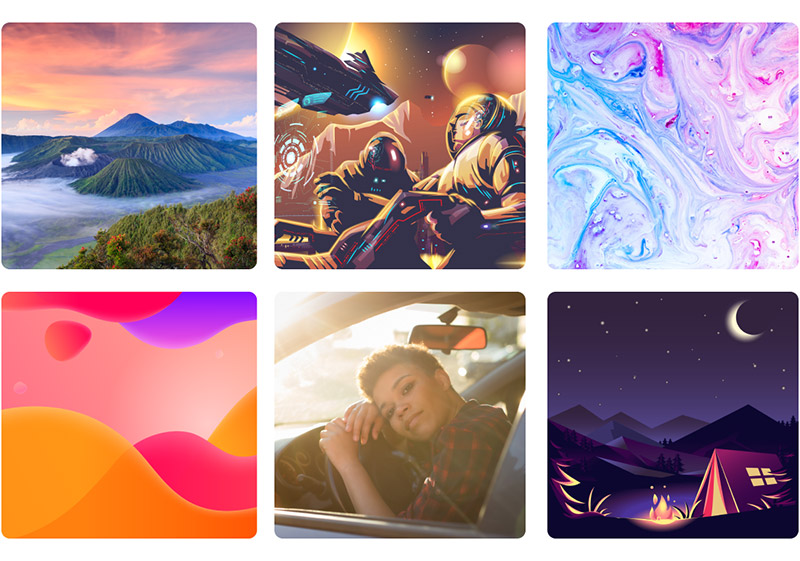 ---
In 2009, just two years after launching, Shawn left his day job to run his network of websites full-time.
Growing the Vecteezy Team and Community
After running the site on his own for a few years, Shawn began to scale the business by hiring freelancers and eventually full-time employees. The growth of the team has been critical to Vecteezy's rapid development and progress.
Pro subscriptions were added to make a greater variety of professional-quality resources available at very affordable prices, but free resources always have been and always will be an essential part of Vecteezy. Unlike most other free stock photo and creative marketplaces, Vecteezy pays contributors for free downloads. Through the Vecteezy contributor program, Shawn is achieving the goal of helping thousands of creatives to monetize their skills.
Vecteezy now serves hundreds of millions of visitors from 180 different countries in eight different languages. The addition of photos and videos in 2020 were major milestones, allowing Vecteezy to offer much more than vector illustrations.
As a designer himself, Shawn thoroughly understands the challenges associated with finding graphics and other quality resources. Previously, it was nearly impossible to find high-quality, affordable and free resources for commercial use. Vecteezy has been successful because it solves that problem.
Vecteezy's home office is located in Bowling Green, Kentucky but about 60% of the team works remotely from all over the United States, as well as Canada and Europe.
Shawn set out to build a company culture that rewards talent and hard work within the context of a casual and fun company culture. For the last year, Vecteezy has boasted an eNPS score (a measurement of how strongly employees recommend and enjoy working at a given organization) of over 70% — astronomically higher than the industry standard of 30%.
Personal Life
Shawn, his wife Jenn, and their three children reside in Kentucky. Outside of work, Shawn loves spending time with his family, traveling, and enjoying the outdoors.
Growing up in Canada, Shawn loved playing ice hockey. The Toronto Maple Leafs are still his favorite team.
Skiing and biking are two of Shawn's biggest hobbies outside of design. Some of his favorite skiing spots include Vail, Colorado and Jackson Hole, Wyoming.
When he's at home in Kentucky, Shawn spends countless hours on his bike, coaches youth sports teams, and keeps up with the local art and entrepreneurial scene in Bowling Green.
View this post on Instagram