Stephen King once wrote, "Sooner or later, everything old is new again." This is true with life in general, but it also applies to design trends and styles. Retro styles always find their way back into current design trends.
The expressiveness of past eras often translated into designs with flashy text effects featuring shiny chrome, halftone lettering, and extruded text, while the backgrounds of the past were often bright, bold neon coloring with extra flair and extravagance.
We're seeing retro make a big comeback in product packaging, website elements, and social media graphics. Brands are launching retro collections, musicians are bringing back these styles for band merch, and designers are looking for ways to get started with these trending throwback motifs.
Regardless of how these elements are used, retro designs hold a strong power over consumers and our psyche, eliciting deep feelings of nostalgia and a longing for the past, allowing us to relive a certain period of time in our lives in a positive way.
If you're looking for resources that can help you to create your own amazing retro designs, we've got you covered. Dive into these throwback collections for an inspirational blast from the past. Click on any of the images in this post to be led to the download page.
Retro Patterns
Bring the look of your favorite decade back by integrating retro patterns into your project. These patterns are perfect for use as backgrounds and can form the foundation of your own retro designs.
Browse retro patterns →
Patterns of the 90s and 80s
Call attention with fun, bright geometric patterns inspired by trends from the 1990s and 1980s.
Browse 90s and 80s patterns →
Patterns of the 70s and 60s
Experiment with patterns like chevron, paisley, and wild lines from the 1970s and 1960s.
Browse 70s and 60s patterns →
Retro Posters and Fliers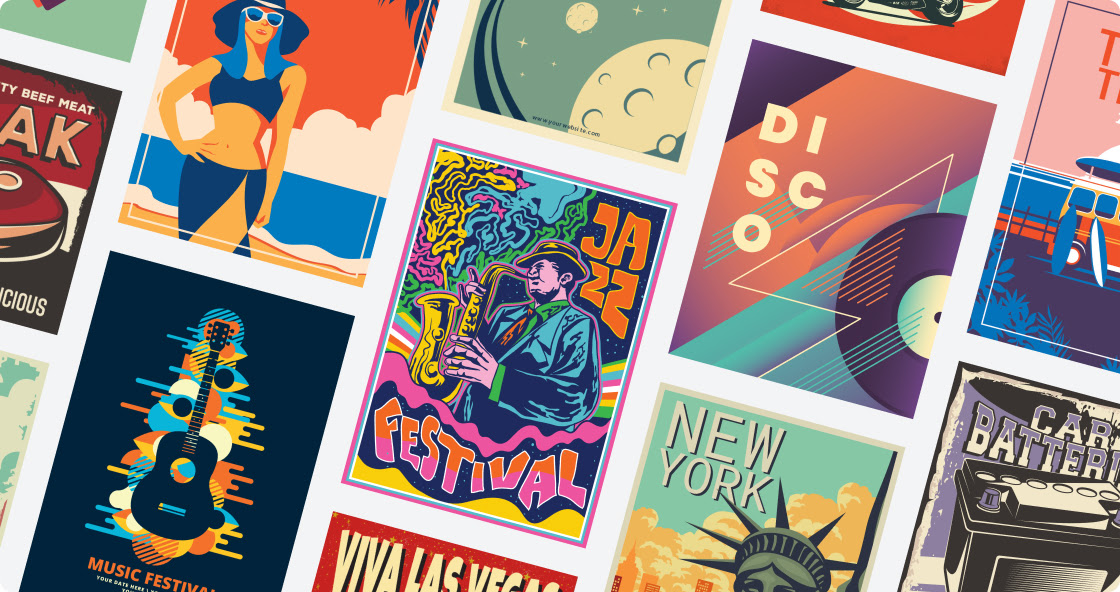 Give your announcement classic style with retro flier and poster graphics.
All of the resources showcased in this post are available at Vecteezy. Some of them are free and others are available with a Pro license. A Pro subscription will give you access to millions of amazing resources for as little as $9 per month.
Resources showcased in this post were created by: nightwolfdezines, Olga Matskevich, foxarthappy, melissa held, Vectorbox Studio, pumashoeme, stockgiu, matrixdesigner, zulfikarilyas70, commercialart, sceneit, and dollyheidi.