As a designer or marketer, you need access to a lot of resources to do your job efficiently. Whether you're creating social media images, flyers, brochures, magazine ads, or any other type of marketing materials, you'll need access to photos, videos, and graphics that communicate your message. And you probably need this creative content daily.
Stock resources can be the solution for speeding up your workflow, but there are a few common challenges that many marketers and designers face when it comes to stock photos, stock videos, and vectors.
We've created Vecteezy to address and overcome these issues so you can get the benefits of stock creative assets without the downside.
Stock Resources Can Be Expensive
There's no doubt that using stock resources is a much more affordable alternative to custom photo or video sessions, or designing resources from scratch. However, the prices at the leading stock marketplaces are still out of reach for many designers and marketers, especially those who need a high volume of creative content.
Many stock marketplaces offer monthly subscriptions for those who frequently download resources, but at a few hundred dollars per month, they're certainly not cheap. Additionally, those subscriptions usually have hard download caps, so if you've hit your limit for the month, you'll need to upgrade or wait until the next month to get the content that you really need today.
Vecteezy Pro solves this problem by offering unlimited downloads of stock photos, stock videos, and vectors for just $9 per month (billed yearly) or $14 per month (billed monthly). You'll get access to millions of creative resources with no limit on how much you can download.
You might spend $9 on just one or two resources at the leading stock websites, but with Vecteezy Pro, you can download as much as you want.
---
Get millions of stock images and videos at the best price
Unlimited access. No attribution required. Starts at just $9/month.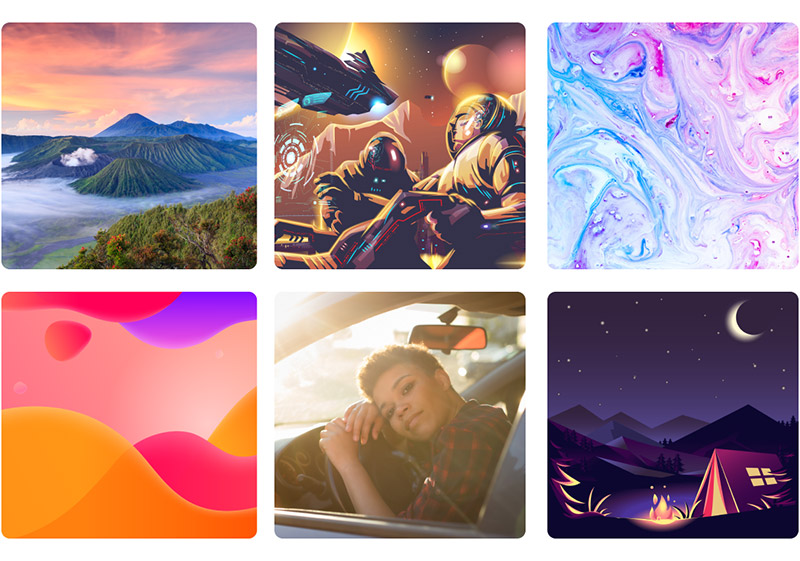 ---
Finding Quality Stock Content Can Be a Challenge
Over the past few years, several websites have become very popular sources of free photos. Aside from the potential legal complications from using photos without model/property releases and with possible trademark issues, the biggest challenge with using these sites is finding what you want.
There are definitely some high-quality free photos available, but the selection is limited and the good photos are surrounded by many lower-quality images. You'll spend a lot of time browsing to find what you're looking for.
Vecteezy makes it easy to find high-quality stock resources in a few different ways:
Each resource submitted by a Vecteezy contributor, including those that are available with our Free license, is manually reviewed by a Vecteezy team member to ensure that it meets our quality standards. If it doesn't meet our standards, it won't appear on our site. That means you won't have to browse through hundreds of low-quality resources to find what you want.
When you search Vecteezy for a vector, photo, or video, you'll have several filtering options you can use to narrow the results and find exactly what you're looking for. Filter by license type, color, orientation, and much more to find the right resources quickly.
Licensing Can Be Complicated
The licensing details related to stock resources can be complicated and confusing. You want to use the resources as intended and avoid any licensing or legal issues, but it's hard to have confidence when you don't understand the details of the license in the first place.
Here at Vecteezy, we're designers ourselves, and we know how frustrating it is to deal with confusing licenses. That's why we've made it a priority to offer our users simple licensing that's easy to understand. All of the resources on our site are released with one of three licenses:
The license for each resource is clearly marked below the download button, and if you click on the "What's This" link, you'll see the details of the license. We've made sure these details are as simple as possible and easy to understand, so you can use the resources confidently.
Get Limitless Graphics with Vecteezy Pro
We've created Vecteezy Pro with you in mind! We know you need access to lots of high-quality resources and that the budget is often very tight. With millions of outstanding resources, unlimited downloads, and prices as low as $9 per month, Vecteezy Pro offers the best value in the industry.
Join Vecteezy Pro and create beautiful designs in less time without breaking the bank.
Frequently Asked Questions
How Much Do Stock Photos Cost?
The cost of stock photos varies greatly depending on where you buy the license, as well as other details. Typically, a standard license will cost anywhere from a few dollars to a few hundred dollars. A Vecteezy Pro subscription costs as little as $9 per month for unlimited downloads.
What's the Cheapest Stock Photo Website?
Vecteezy Pro is the best value in the industry. For as little as $9 per month, you can download as many stock photos, videos, and vectors as you need. Instead of paying individually for each resource that you want to license, you'll pay one flat rate to get unlimited access. Subscriptions at other stock marketplaces may cost hundreds of dollars per month, and they usually have hard download caps.
Are Stock Photos Safe to Use?
Stock photos are safe as long as you use them within the terms of the license. The challenge is that many stock marketplaces use licensing language that is confusing or unclear. Here at Vecteezy, we've made it a priority to create simple licensing terms so you know exactly what you can and can't do with resources under each type of license.
Can I Use Stock Photos on My Website?
Yes, stock photos are often used for websites. You'll need to check the license before using any stock photo, but most licenses (including Vecteezy's) allow for use on websites as long as the other conditions are met. Photos with an editorial license cannot be used for commercial purposes.
Will Using Stock Photos/Videos Hurt My Brand?
Some of the largest brands in the world use stock assets. Stock footage (referred to as "B roll") is commonly used in the production of major films and TV shows. Using stock photos and videos will not hurt your brand, but you should put some thought into the specific assets you use. Look for photos and videos that feel authentic and don't have a "stocky" look and most viewers won't even know they're stock resources. Also, choose images and videos that are a good fit with your brand's personality.
Can I Download Stock Photos for Free?
Yes, Vecteezy offers a huge selection of free photos. Pro subscribers have access to all of our photos, videos, and vectors, but there are also plenty of resources available for free. The free license allows for use in personal and commercial projects, but you must provide attribution to Vecteezy. The requirement for attribution is waived for Pro subscribers.
Lead image by Wasan prunglampoo.