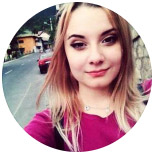 Today we're excited to showcase the work of Dana Chirpac. Dana is a talented designer from Romania with a portfolio of beautiful vectors and illustrations.
Here at Vecteezy, we're happy to have so many talented designers, photographers, and videographers that contribute their work to everyone in our community. Our Pro subscribers are able to get unlimited access to Dana's collection of amazing patterns and illustrations.
Below, you'll see a small selection that highlights some of Dana's work, but her portfolio includes many more vectors that can be downloaded and used in your own designs. As you're browsing this page, if you see an image that you like, click the image and you'll be led to the download page.
We had a chance to sit down and chat with Dana about her background and her approach to design.
---
Vecteezy: What attracted you to design and illustration?
Dana: I think it's the feeling of appreciation and positive feedback. It was 2019 when, as a graduate law student, I was looking for ways to work from home. I discovered that you can make passive income by selling designs on stock websites. One night I decided to sign up for some stock agencies, although I didn't take it seriously at the moment. I didn't believe that anyone would buy my designs until it actually happened. After 3 days I made my first 25 cents! I must admit, the feeling you get when you earn your first 25 cents with stock is way better than selling a design for 25 dollars! That made me realize that people will actually download my designs, so I started to do more.
Vecteezy: Do you have any formal training or are you self-taught?
Dana: I've been drawing since I was a kid, but I started doing it digitally about 4 years ago. I didn't know much about design software and I didn't even believe in myself enough at the time since I had zero digital drawing skills. I started drawing digitally by looking for sketches on the internet and adding my own style to them. I did this exercise daily until I was sure I am able to do my own drawings and have my own unique style.
---
---
Vecteezy: What tools do you use in your work?
Dana: I started drawing by using a mouse. At the beginning of 2020, I finally got my first graphic tablet. The bottom line is, it's not the tablet that makes you a better artist, but your skills, so I wouldn't mind using a mouse if necessary! As for the software, I mainly use Adobe Illustrator since I mostly create seamless patterns and, from time to time, Adobe Photoshop.
Vecteezy: How would you describe your approach to design and illustration?
Dana: Digital drawing is fun and doing it daily keeps you going. Although it's fun, I try to approach it as a normal job, with responsibility and perseverance. That's why I try to create lists with ideas and things to draw. I have post-it notes and notebooks to keep track of what I've drawn and what I haven't. That helps me organize my chaotic mind. My goal is to create one drawing per day, but that is kind of hard since there are days when you are not in the mood or you can't find the perfect idea to start drawing. Or maybe you have too many ideas and have no clue with which one to start.
---
---
Vecteezy: What's your process for deciding which resources or what types of resources to create and upload to Vecteezy?
Dana: I brainstorm ideas, usually considering the season, the events, and the trends at the moment. I try to balance my own style with the commercial value and make my drawings as generic as possible, so they can be timeless so they'll be downloaded even 10 years from now.
Vecteezy: What do you enjoy most about your role or your work as a designer?
Dana: In a world where people are constantly asking themselves who they are and where do they fit into this society, it's amazing to find the thing that you do best and enjoy doing. I can say that working as a designer allowed me to find my identity.
---
---
Vecteezy: What do you wish you had known earlier in your journey?
Dana: I wish I had started sooner because I know I would've gone further.
---
Thank you, Dana for contributing these amazing vectors to Vecteezy!
If you like the designs that you see here, be sure to check out Dana's profile and download any images that can be useful for you.
Are you a photographer or a designer? Learn more about becoming a contributor.