You can upload your photos, illustrations, and videos to Vecteezy and earn passive income. Sound good? This article covers the details of our contributor program and how you can start making money with us.
Vecteezy is known as a great source of high-quality vectors,  stock photos, and stock videos. Did you know that you can make money by contributing content to Vecteezy?
Millions of visitors arrive at Vecteezy every month in search of resources that can help to speed up or improve their design process. We're able to help those visitors because we've built a large collection of quality resources that they can count on. We're constantly working to add more resources, and we need talented contributors who are interested in gaining exposure and making some money.
Who It's For
The Vecteezy contributor program is for designers, illustrators, photographers, and videographers who are interested in earning passive income while getting their work in front of millions of users worldwide.
Artists who are already working with other creative platforms will be able to quickly upload the resources they've already created. Using your existing work is an easy way to get started and to make some extra money. Of course, you can upload more resources going forward as well.
Why Become a Contributor?
Let's take a look at some of the most significant reasons why you might want to become a contributor to Vecteezy.
1. Make Money

Vecteezy contributors earn money based on the number of downloads their resources receive. Regardless of whether you're a full-time professional or a hobbyist, making money with Vecteezy is easy.
---
Get millions of stock images and videos at the best price
Unlimited access. No attribution required. Starts at just $9/month.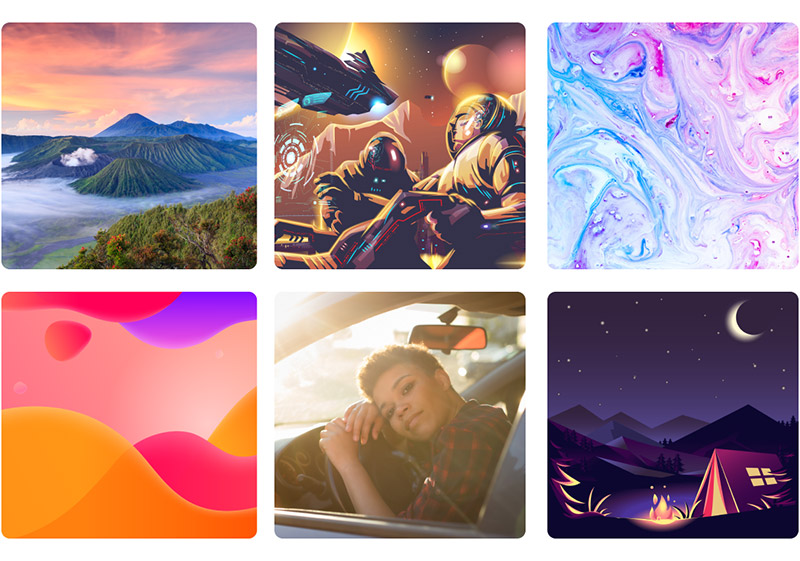 ---
If you're a Vecteezy user, you know there are a lot of amazing resources at our site that are free to download. What you might not know is that you can earn money even by making your content available for download completely free. While there are a lot of websites where you can upload your content for others to download for free, Vecteezy is unique because you can actually get paid for offering these free resources. Contributors of free resources are paid $5 for every 1,000 downloads.
We also have a growing collection of Pro resources. Pro contributors are compensated per download, but this calculation uses a Subscriber Share model. We've developed this model to provide transparency and allow contributors to be fairly compensated for their work. You can read all of the details about how Pro earnings are calculated.
Our contributors love the passive income that they're able to generate. The resources that you've already created may be able to make money for you each and every month simply by uploading them to Vecteezy. If you dedicate some time to creating and uploading more resources now, you might make even more passive income for months or years to come.
2. Gain Exposure

Contributing to Vecteezy is a great way to get your work in front of a large and growing audience. Whether you're a designer or photographer, you'll be able to grow your profile and gain exposure within the industry by contributing.
Contributors are credited on the download page for each resource, and you'll also have your own contributor profile page that showcases your work. You'll be able to add a photo, brief bio, and links to your own social profiles.
From your contributor dashboard, you'll be able to see how many views and downloads your items receive.
3. It's Non-Exclusive
Many of our contributors also contribute to other websites. We do not require exclusivity, so you are free to use your resources at your own website or other stock websites as well.
If you're already contributing to other websites, becoming a contributor to Vecteezy doesn't need to impact that at all. You don't need to remove your vectors/photos/videos from other sites, and you will be able to continue contributing wherever you choose.
Since we launched free photos in August of 2020, we've gained many new contributors who already have profiles at other free photo websites. If you already have the photos, why not join us and contribute to Vecteezy as well? Unlike most of the other free photo sites that you may be using, Vecteezy will pay you based on the number of downloads your photos receive. You may have photos that have been downloaded thousands of times at other sites but earned nothing for you. The same photos could be a great source of passive income by contributing to Vecteezy.
4. Grow With Us
We receive millions of visitors each month, and the numbers are increasing. We're currently in a phase of significant growth due in part to the addition of photos and videos to Vecteezy.
By becoming a contributor now, you have an opportunity to reach our existing audience while building up your profile. As Vecteezy continues to grow, you'll be in a position to earn even more money in the future.
If you've uploaded resources to other stock sites in the past and felt like your work got buried under all of the more established contributors, this is your chance to reverse that and get in early.
5. You're in Control
Contributing to Vecteezy can be whatever you want it to be. There are no quotas or minimum requirements on the number of resources that you need to contribute on an on-going basis. If you're looking for a fun way to make some extra money, you can upload the resources that you already have and slowly add more as you're able.
If you want to maximize your earning potential, you can frequently upload more resources to get more exposure and more downloads.
You can work whenever and wherever you want. All you need is an internet connection to be able to upload your original content.
How It Works
After reading the details above, you're probably wondering how you can get started as a Vecteezy contributor. If so, please head to our contributor sign up page to get started.
Choose Your Area of Speciality
The first step is to choose your area of focus. Are you a designer who will be contributing high-quality vectors? A photographer with high-resolution photos? A videographer with 4K videos?
Apply to Become a Contributor
Click on the "get started" button on the contributor page to begin. You'll enter an email address and a password to create your account. As part of the application process, you'll choose to be either a free or Pro contributor. This impacts how your resources will be available to visitors and how you will be compensated. See a more detailed comparison here.
When you apply, you'll be asked to upload some samples of your work. Be sure to choose your best work so that our team can accurately evaluate it. The items that you upload won't necessarily be submitted to Vecteezy for use by our audience. This part of the process is simply to evaluate applicants in order to maintain our quality standards.
Upload Your Work
After your application has been reviewed and approved, you will be able to upload your work. Be sure to add a title, description, and tags that include keywords that visitors might use to search for your resources.
Each item that you upload will be reviewed by the Vecteezy team. Once it has been approved, it will be live on our site. From within your contributor dashboard, you'll be able to see the approval status of each item that you've submitted.
Get Paid!
Contributors are paid once per month (you can see more details about earnings information here). The best way to increase the amount that you make from Vecteezy is to continually upload new resources.
We think you'll love contributing to Vecteezy and receiving the exposure and financial compensation that comes with it. If you're ready to get started, please head to our Contributors page and apply.
Lead image by gilitukha.