Pattern Design Contest! Win a copy of Seamless Studio and 50 Eezy Premium Credits!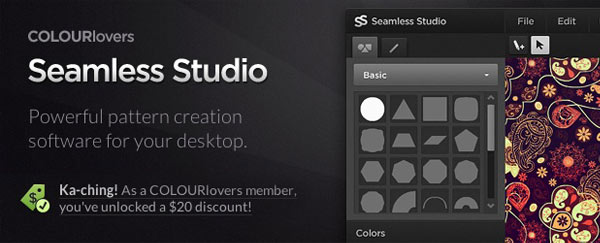 Today we are excited to announce a new giveaway from our friends at COLOURlovers.com. They have just created and launched an awesome tool called
Seamless Studio
. It's a desktop Mac/PC app that makes it simple to design great-looking seamless vector patterns! The app costs $49, but COLOURlovers members (it's free to join) will be able to get it for
only $29 for a limited time by using coupon code EEZYINC
at checkout!
How To Enter:
1. Head over to COLOURlovers and
download your 15 day free trial of Seamless Studio
to get started. (No credit cards required!) 2. Play around with the app and design the most beautiful pattern possible. 3. Save your pattern as a .ssf file and also export your pattern as a .svg file. Put them in a folder together and zip it up and upload and share it on Vecteezy. Make sure to add it to the "Seamless Studio Pattern Contest" category.

4. Post the link to your pattern the comments below and tweet it with the hash tag #seamlessstudio AND #vecteezy.
The Prize:
The top three patterns with the most votes (highest star rating) on their pattern will win a fully licensed copy of Seamless Studio ($49 Value) and get 50 Eezy Premium credits deposited into their account ($40 value). So be sure to get as many of your friends as possible to vote for your pattern!
The Rules:
Winners will be selected and contacted on Thursday August 11th at 12pm CST. You will have 24 hours to respond to claim your prize or we will select the person with the next highest votes on their pattern. You may enter as many times as you like. Good luck!

About the Author
Hi! My name is Shawn Rubel and started Eezy Inc. a few years ago. What started as a hobby has now turned into a full time job and I absolutely love what I do :) You can catch me on twitter or just leave me a message below!